ZFIN ID: ZDB-FIG-070918-31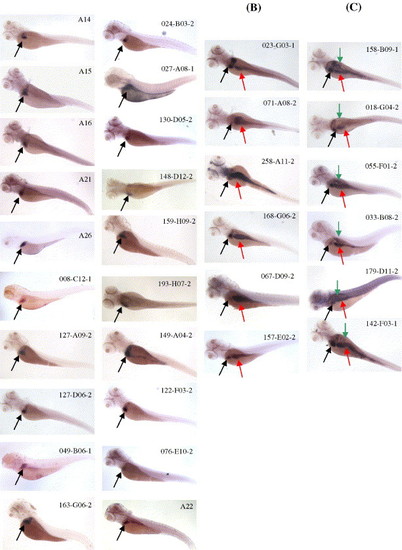 Fig. 2 Identification of 69 genes enriched in the embryonic liver. Probes were derived from all 129 adult liver-enriched genes and were used to perform whole-mount in situ hybridization on 3 dpf, 4 dpf and 5 dpf embryos, respectively. (A) Expression of 56 genes is predominantly enriched in the liver but not in other digestive organs. (B) Expression of six genes is enriched in the liver and intestine but not in the pancreas. (C) Expression of six genes is enriched in all three major digestive organs. Clone identification is shown on the right corner. The liver is indicated by black arrow, the intestine by red arrow and the pancreas by green arrow.
Antibody Labeling Details
No data available
Phenotype Details
No data available
Acknowledgments:
This image is the copyrighted work of the attributed author or publisher, and ZFIN has permission only to display this image to its users. Additional permissions should be obtained from the applicable author or publisher of the image.

Reprinted from Developmental Biology, 294(2), Cheng, W., Guo, L., Zhang, Z., Soo, H.M., Wen, C., Wu, W., and Peng, J., HNF factors form a network to regulate liver-enriched genes in zebrafish, 482-496, Copyright (2006) with permission from Elsevier. Full text @ Dev. Biol.