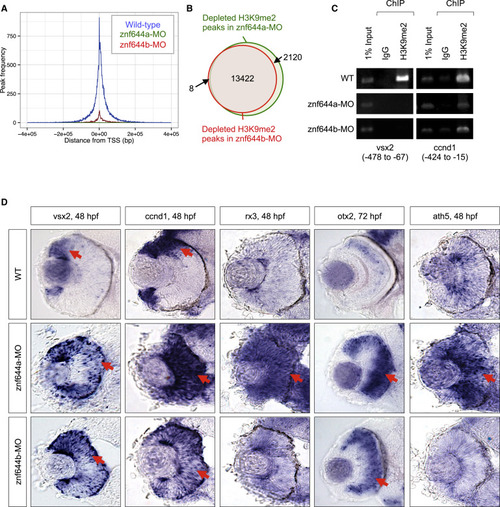 Fig. 3
znf644a and znf644b Are Required for H3K9me2-Mediated Gene Silencing in the Forming Retina
(A) Frequency and distance from TSS at which H3K9me2 peaks were identified in WT, znf644a, and znf644b morphants.
(B) Venn diagram illustrating the number and overlap of H3K9me2 peaks at 48 hpf in znf644a or znf644b morphants or WT embryos.
(C) ChIP-PCR assays monitoring H3K9me2 levels near the TSSs of vsx2 or ccnd1 genes at 48 hpf.
(D) WISH assays monitoring expression of progenitor or proneural genes in WT, znf644a, or znf644b morphant retinas. Arrows highlight expression domains.