ZFIN ID: ZDB-FIG-150309-9
Superina et al., 2014
- Analysis of maternal-zygotic ugdh mutants reveals divergent roles for HSPGs in vertebrate embryogenesis and provides new insight into the initiation of left-right asymmetry. Developmental Biology 387(2):154-166
Full text @ Dev. Biol.
EXPRESSION / LABELING:
| | |
| --- | --- |
| Genes: | |
| Fish: | |
| Anatomical Terms: | |
| Stage: | Prim-5 |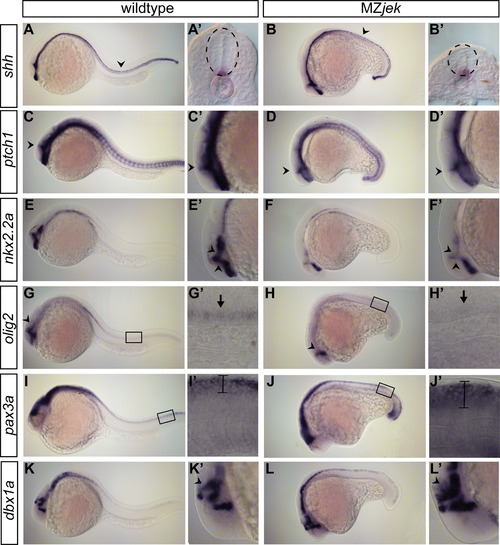 Fig. 4 Shh signaling is reduced in MZjek. (A,B) shh is expressed in the notochord and floorplate (arrowhead) of wildtype (A, N=30) and MZjek at 24 hpf (B, N=40). Insets show transverse sections of shh in the spinal cord (A',B' N=28,39). (C–H) Class II genes patched1, nkx2.2a, and olig2 are reduced in MZjek. patched1 expression is reduced in MZjek (D, N=26) as compared to wildtype embryos (C, N=18). Most notably, patched1 expression is severely reduced in the ZLI (arrowheads C,D). Insets show close up of head region, highlighting expression in the ZLI (arrowheads C′,D′). nkx2.2a is absent in prethalamic (anterior arrowhead) and thalamic (posterior arrowhead) areas surrounding the ZLI in MZjek mutants (E,E',F,F' N=25,37). olig2 expression is reduced in the forebrain (G,H arrowhead; N=12,17) and ventral spinal cord (arrow in insets G'H') in MZjek embryos. Boxed region in G,H shown at higher magnification in G′,H′. (I–L) Class I genes pax3a and dbx1a show increased expression in MZjek. pax3a expression is expanded in the dorsal spinal cord (bars) in MZjek embryos (I,I',J,J' N=23,34). Boxed region in I,J shown at higher magnification in I',J'. dbx1a expression is also expanded in the thalamic areas posterior to the ZLI (arrowheads K,K′,L,'' N=8,10).
Antibody Labeling Details
No data available
Phenotype Details
No data available
Acknowledgments:
ZFIN wishes to thank the journal Developmental Biology for permission to reproduce figures from this article. Please note that this material may be protected by copyright.

Reprinted from Developmental Biology, 387(2), Superina, S., Borovina, A., and Ciruna, B., Analysis of maternal-zygotic ugdh mutants reveals divergent roles for HSPGs in vertebrate embryogenesis and provides new insight into the initiation of left-right asymmetry, 154-166, Copyright (2014) with permission from Elsevier. Full text @ Dev. Biol.