ZFIN ID: ZDB-FIG-150309-13
Superina et al., 2014
- Analysis of maternal-zygotic ugdh mutants reveals divergent roles for HSPGs in vertebrate embryogenesis and provides new insight into the initiation of left-right asymmetry. Developmental Biology 387(2):154-166
Full text @ Dev. Biol.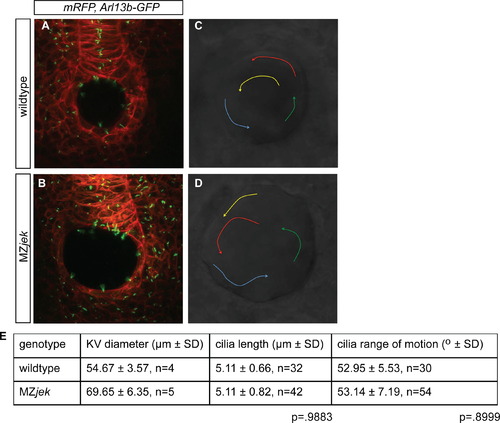 Fig. 8 MZjek mutants have normal cilia length and normal fluid flow within Kupfferós vesicle (KV). (A,B) Confocal z-stack images through the KV of 6–8 SS wildtype (A) and MZjek (B) embryos that express membrane-localized mRFP (red) and Arl13b-GPF (green) demonstrate the presence of motile cilia. (C,D) Bead trajectories in wildtype and MZjek KVs injected with fluorescent beads at 8–10 SS. Representative bead trajectories in wildtype (C) and MZjek (D) indicated by arrows. (E) Mean and standard deviation of KV diameter, motile cilia length and range of motion of cilia in the KV of wildtype and MZjek embryos.
Gene Expression Details
No data available
Antibody Labeling Details
No data available
Acknowledgments:
ZFIN wishes to thank the journal Developmental Biology for permission to reproduce figures from this article. Please note that this material may be protected by copyright.

Reprinted from Developmental Biology, 387(2), Superina, S., Borovina, A., and Ciruna, B., Analysis of maternal-zygotic ugdh mutants reveals divergent roles for HSPGs in vertebrate embryogenesis and provides new insight into the initiation of left-right asymmetry, 154-166, Copyright (2014) with permission from Elsevier. Full text @ Dev. Biol.