ZFIN ID: ZDB-FIG-150309-10
Superina et al., 2014
- Analysis of maternal-zygotic ugdh mutants reveals divergent roles for HSPGs in vertebrate embryogenesis and provides new insight into the initiation of left-right asymmetry. Developmental Biology 387(2):154-166
Full text @ Dev. Biol.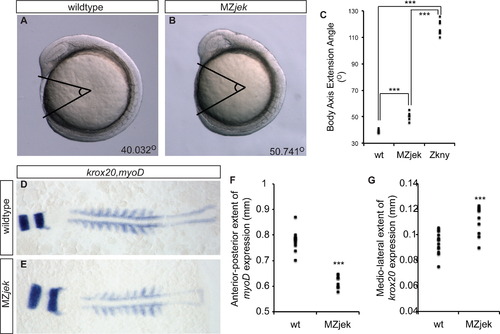 Fig. 5 Convergence and extension defects are apparent in MZjek. (A,B) Representative photos of live wildtype (A; N=9) and MZjek (B; N=7) embryos at 9 SS. (C) Quantification of the angle of body axis extension over the yolk in wildtype, MZjek and Zkny (***p<0.001). (D,E) Flat-mounts of 10 SS wildtype (D; N=13) and MZjek (E; N=10) embryos stained for krox-20 (hindbrain) and myoD (somite) gene expression. (F) Quantification of the anterior–posterior extent of the myoD expression domain in wildtype versus MZjek (***p<0.001). (G) Quantification of the mediolateral extent of krox20 expression in wildtype versus MZjek (***p<0.001).
Antibody Labeling Details
No data available
Acknowledgments:
ZFIN wishes to thank the journal Developmental Biology for permission to reproduce figures from this article. Please note that this material may be protected by copyright.

Reprinted from Developmental Biology, 387(2), Superina, S., Borovina, A., and Ciruna, B., Analysis of maternal-zygotic ugdh mutants reveals divergent roles for HSPGs in vertebrate embryogenesis and provides new insight into the initiation of left-right asymmetry, 154-166, Copyright (2014) with permission from Elsevier. Full text @ Dev. Biol.