ZFIN ID: ZDB-FIG-151120-17
EXPRESSION / LABELING:
Genes:
Fish:
Knockdown Reagent:
Anatomical Terms:
Stage Range:

Prim-25

to

Long-pec
PHENOTYPE:
| | |
| --- | --- |
| Fish: | |
| Knockdown Reagent: | |
| Observed In: | |
| Stage: | Long-pec |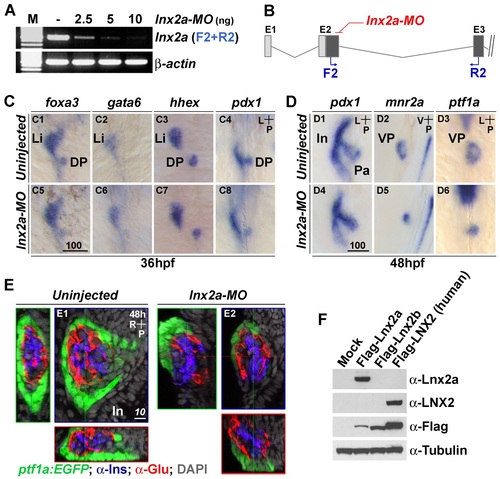 Fig. S2 lnx2a knock-down affects development of the exocrine pancreas. (A) RT-PCR reveals that lnx2a-MO injection efficiently blocks pre-mRNA splicing between exon 2 and exon 3. (B) A schematic drawing indicates the location of primers in exon 2 (F2) and exon 3 (R2). (C and D) lnx2a is involved in the maintenance of ventral pancreas but not initial establishment of endoderm patterning. (C) At 36 hpf, foxa3, gata6, hhex and pdx1-positive cells develop normally in lnx2a-MO injected embryos. (D) At 48 hpf, pdx1-expressing pancreas precursor tissue is normally formed, but mnr2a and ptf1a-postive ventral pancreas precursors are reduced in lnx2a- MO injected embryos (D5 and D6). (E) Detection of lnx2a-MO effect using transgenic embryos and immuno staining. Tg(ptf1a:EGFP) embryos were injected with lnx2a-MO and stained for insulin (Ins) and glucagon (Glu) to visualize β-cells and α-cells, respectively. Confocal images at 48 hpf are shown along three axes. lnx2a-MO injected embryos display defective ventral pancreas (ptf1a: EGFP+), but normal dorsal pancreas-derived β-cells (Ins+) and α-cells (Glu+). (F) Western blot shows the specificity of the anti-Lnx2a polyclonal antibody. Flag-tagged zebrafish Lnx2a, Lnx2b and human LNX2 expression vectors were transfected into 293T cells, and lysates were analyzed by immuno blotting with anti-Lnx2a, LNX2, Flag and Tubulin antibodies, as indicated. Li, Liver; Pa, Pancreas; In, Intestine; DP, Dorsal pancreas; VP, Ventral pancreas; Scale bar, 100 µm (C5) and 10 µm (E1).
Antibody Labeling Details
No data available
Acknowledgments:
ZFIN wishes to thank the journal Proceedings of the National Academy of Sciences of the United States of America for permission to reproduce figures from this article. Please note that this material may be protected by copyright. Full text @ Proc. Natl. Acad. Sci. USA