ZFIN ID: ZDB-FIG-151120-20
EXPRESSION / LABELING:
Genes:
Fish:
Knockdown Reagent:
Anatomical Term:
Stage Range:

Prim-25

to

Long-pec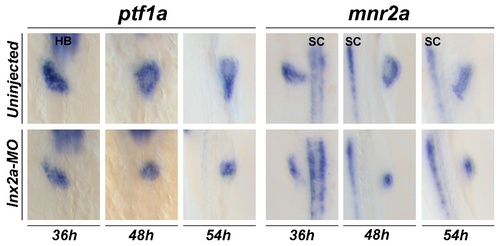 Fig. S7 Lnx2a-MO injection affects both the specification and expansion of the ventral pancreas. Lnx2a-MO injection leads to inhibition of the ventral pancreas markers (ptf1a, mnr2a) from 36 hpf onward. HB, hindbrain; SC, spinal cord.
Antibody Labeling Details
No data available
Acknowledgments:
ZFIN wishes to thank the journal Proceedings of the National Academy of Sciences of the United States of America for permission to reproduce figures from this article. Please note that this material may be protected by copyright. Full text @ Proc. Natl. Acad. Sci. USA