ZFIN ID: ZDB-FIG-131213-45
Your Input Welcome
Thank you for submitting comments. Your input has been emailed to ZFIN curators who may contact you if additional information is required.
Oops. Something went wrong. Please try again later.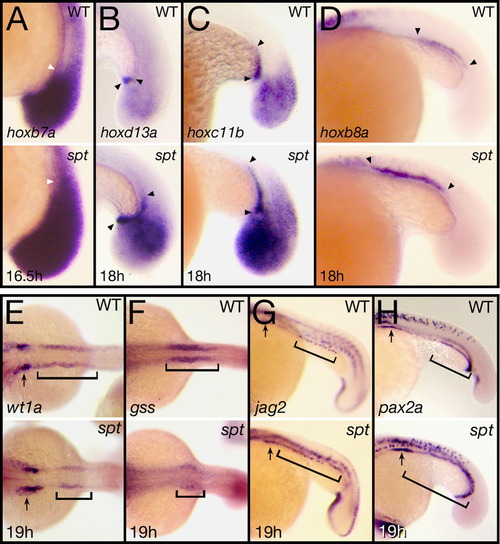 Fig. 5 spt mutants possess more posterior mesoderm. (A) Expression at 16.5 h of hoxb6b, arrowhead indicates the extent of anterior staining within the tailbud mesoderm. (B–D) Expression at 18 h of: (B) hoxd13a, (C) hoxc11b, and (D) hoxb8a, arrowheads indicate extent of staining in the cloaca (B) or in the pronephros (C and D). (E–I) Expression at 19 h of: (E) wt1a and (F) gss, marking anterior segments and (G) jag2 and (H) pax2a, marking posterior segments. Arrows indicate label in the most anterior nephric segment and brackets indicate regions that are altered. Embryos are shown from a (A–D and G, H) left side view, or (E, F) dorsal view with anterior to the left.
Antibody Labeling Details
No data available
Phenotype Details
No data available
Acknowledgments:
ZFIN wishes to thank the journal Developmental Biology for permission to reproduce figures from this article. Please note that this material may be protected by copyright.

Reprinted from Developmental Biology, 383(1), Warga, R.M., Mueller, R.L., Ho, R.K., and Kane, D.A., Zebrafish Tbx16 regulates intermediate mesoderm cell fate by attenuating Fgf activity, 75-89, Copyright (2013) with permission from Elsevier. Full text @ Dev. Biol.