ZFIN ID: ZDB-FIG-130123-66
Your Input Welcome
Thank you for submitting comments. Your input has been emailed to ZFIN curators who may contact you if additional information is required.
Oops. Something went wrong. Please try again later.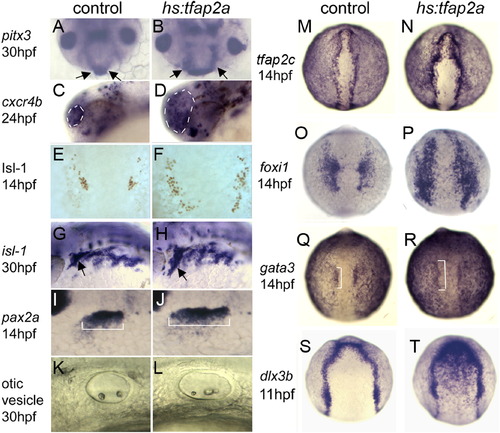 Fig. 2 Misexpression of tfap2a promotes overproduction of placodes. A-L, Markers of placodal derivatives, including pitx3 in the anterior pituitary at 30 hpf (A and B, arrows), cxcr4b in the olfactory pit at 24 hpf (C and D, circled), Isl1 in trigeminal placode at 14 hpf (E and F), isl1 in cranial ganglia at 30 hpf (G and H, trigeminal ganglion indicated by arrows), pax2a in the otic/epibranchial placodes at 14 hpf (I and J, brackets indicate otic domain), and the otic vesicle at 30 hpf (K and L) in control embryos and hs:tfap2a/+ transgenic embryos. All indicated placodal derivatives are enlarged following activation of hs:tfap2a at 7 hpf. M–T, expression of competence factors tfap2c (M and N), foxi1 (O and P) and gata3 (Q and R, otic domain indicated by brackets) at 14 hpf, and the general PPE marker dlx3b at 11 hpf (S and T) in control embryos and hs:tfap2a embryos. Activation of hs:tfap2a at 7 hpf results in upregulated and expanded expression of all of these genes in placodal tissues. Images show lateral views with anterior to the left (C, D, G-L), dorsal views with anterior up (E, F, M-T), or facial views of the front of the head (A and B).
Antibody Labeling Details
No data available
Acknowledgments:
ZFIN wishes to thank the journal Developmental Biology for permission to reproduce figures from this article. Please note that this material may be protected by copyright.

Reprinted from Developmental Biology, 373(1), Bhat, N., Kwon, H.J., and Riley, B.B., A gene network that coordinates preplacodal competence and neural crest specification in zebrafish, 107-117, Copyright (2013) with permission from Elsevier. Full text @ Dev. Biol.