ZFIN ID: ZDB-FIG-150504-21
Your Input Welcome
Thank you for submitting comments. Your input has been emailed to ZFIN curators who may contact you if additional information is required.
Oops. Something went wrong. Please try again later.
EXPRESSION / LABELING:
| | |
| --- | --- |
| Genes: | |
| Fish: | |
| Condition: | |
| Knockdown Reagent: | |
| Anatomical Terms: | |
| Stage: | Prim-5 |
PHENOTYPE:
Fish:
Condition:
Knockdown Reagent:
Observed In:
Stage Range:

Prim-5

to

Long-pec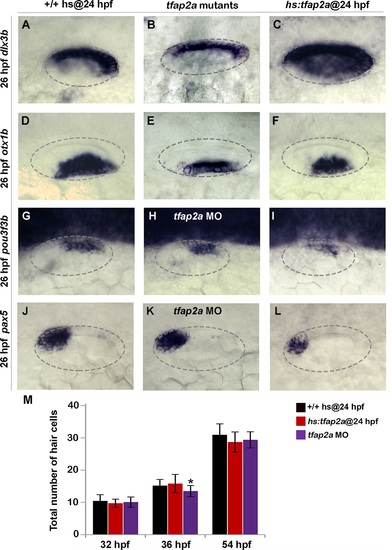 Fig. 5 Effects of tfap2a knockdown and overexpression on otic vesicle patterning.
(A-L) Whole-mount images (dorsal up, anterior left) showing dorsolateral views of the otic vesicle (outlined) in control embryos, tfap2a-/- mutants and tfap2a morphants, and hs:tfap2a embryos for the indicated genes at 26 hpf. (M) Mean and standard deviation of the total number of hair cells in utricular and saccular maculae of control and hs:tfap2a embryos and tfap2a morphants at the indicated times (n = 24 embryos each). Data were obtained by counting GFP-positive hair cells in the sensory epithelia of brn3c:Gfp transgenic embryos. Accumulation of hair cells was normal except in tfap2a morphants at 36 hpf (*), which showed a small but significant decrease relative to the control.
Antibody Labeling Details
No data available
Acknowledgments:
ZFIN wishes to thank the journal PLoS Genetics for permission to reproduce figures from this article. Please note that this material may be protected by copyright. Full text @ PLoS Genet.