ZFIN ID: ZDB-FIG-140919-10
EXPRESSION / LABELING:
Genes:
Fish:
Knockdown Reagent:
Anatomical Terms:
Stage Range:

Prim-5

to

Long-pec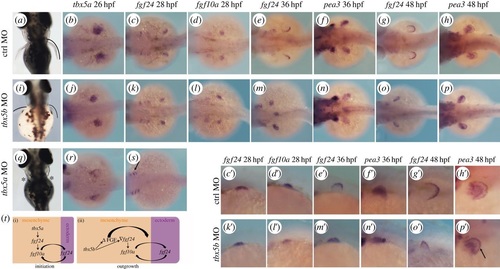 Fig. 5
tbx5b knock-down causes a delay in pectoral fin growth. (a,i,q) Pectoral fin morphology at 3 dpf. Dorsal views are shown with anterior to the top. (b-h) Expression of the developing pectoral fin markers in control (ctrl) MO-injected embryos. (c′-h′) Higher magnifications of (c-h). (j-p) Pectoral fin markers expression in tbx5b-morphant embryos. (k′-p′) Higher magnifications of (k-p). (r,s) tbx5a morphants. (t) Model for the differential requirements for the tbx5 genes during pectoral fin development. b-h, j-p,r,s are dorsal views with anterior to the left. c′-h′,k′-p′ are lateral views with anterior to the left.
Antibody Labeling Details
No data available
Acknowledgments:
ZFIN wishes to thank the journal Open Biology for permission to reproduce figures from this article. Please note that this material may be protected by copyright. Full text @ Open Biol.