ZFIN ID: ZDB-FIG-140919-10
EXPRESSION / LABELING:
Genes:
Fish:
Knockdown Reagent:
Anatomical Terms:
Stage Range:

Prim-5

to

Long-pec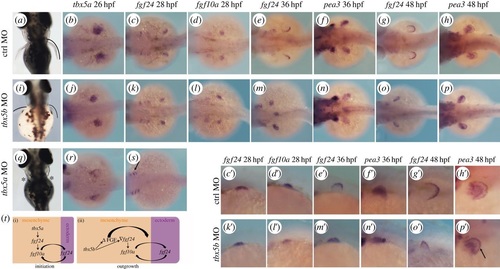 Fig. 5
tbx5b knock-down causes a delay in pectoral fin growth. (a,i,q) Pectoral fin morphology at 3 dpf. Dorsal views are shown with anterior to the top. (b-h) Expression of the developing pectoral fin markers in control (ctrl) MO-injected embryos. (c′-h′) Higher magnifications of (c-h). (j-p) Pectoral fin markers expression in tbx5b-morphant embryos. (k′-p′) Higher magnifications of (k-p). (r,s) tbx5a morphants. (t) Model for the differential requirements for the tbx5 genes during pectoral fin development. b-h, j-p,r,s are dorsal views with anterior to the left. c′-h′,k′-p′ are lateral views with anterior to the left.
Antibody Labeling Details
No data available
Acknowledgments:
This image is the copyrighted work of the attributed author or publisher, and ZFIN has permission only to display this image to its users. Additional permissions should be obtained from the applicable author or publisher of the image. Full text @ Open Biol.