ZFIN ID: ZDB-FIG-130906-21
EXPRESSION / LABELING:
| | |
| --- | --- |
| Genes: | |
| Fish: | |
| Anatomical Terms: | |
| Stage: | Prim-5 |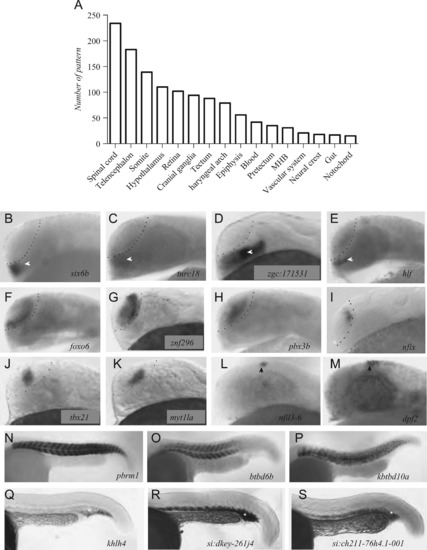 Fig. 4
Assessment of TR gene expression by RNAseq. (A) Number of genes (white bars) and TRs (dashed bars) expressed at two different developmental stages and two adult body parts as determined by RNAseq. The total number of TR loci quantified by transcript counting over all stages is indicated as "Collapsed". (B) Quantification of the total number of genes detected at 24 hpf by RNAseq in function of the sequencing depth. The number of detected genes is indicated as the mean from 3 biological replicates. (C) Level of expression of transcripts represented as FPKM from a selection of genes known to be expressed in the epiphysis (crx, otx5, nr2e3, aannt2), the retina (pax6b, hmx4) or tectum and retina (mycn and mych). The relative expression is indicated as the mean of FPKM from biological triplicates. (D) RNA in situ expression data of the selected transcripts at 24 hpf. (*: epiphysis; arrow head: optic tectum.)
Antibody Labeling Details
No data available
Phenotype Details
No data available
Acknowledgments:
ZFIN wishes to thank the journal Developmental Biology for permission to reproduce figures from this article. Please note that this material may be protected by copyright.

Reprinted from Developmental Biology, 380(2), Armant, O., März, M., Schmidt, R., Ferg, M., Diotel, N., Ertzer, R., Bryne, J.C., Yang, L., Baader, I., Reischl, M., Legradi, J., Mikut, R., Stemple, D., Ijcken, W.V., van der Sloot, A., Lenhard, B., Strähle, U., and Rastegar, S., Genome-wide, whole mount in situ analysis of transcriptional regulators in zebrafish embryos, 351-62, Copyright (2013) with permission from Elsevier. Full text @ Dev. Biol.