ZFIN ID: ZDB-FIG-110128-28
Your Input Welcome
Thank you for submitting comments. Your input has been emailed to ZFIN curators who may contact you if additional information is required.
Oops. Something went wrong. Please try again later.
Xu et al., 2010
- Setdb2 restricts dorsal organizer territory and regulates left-right asymmetry through suppressing fgf8 activity. Proceedings of the National Academy of Sciences of the United States of America 107(6):2521-2526
Full text @ Proc. Natl. Acad. Sci. USA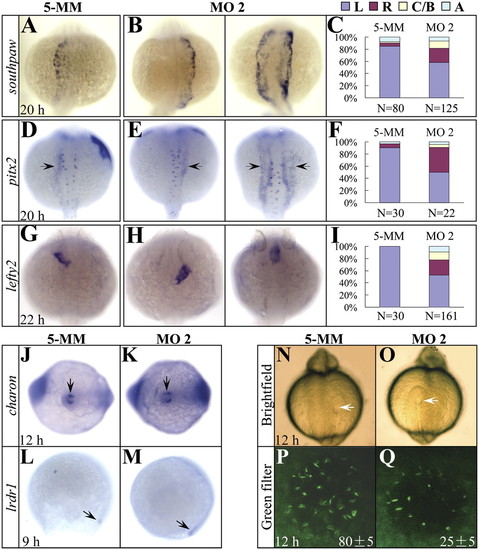 Fig. 3 The expression of asymmetric genes is randomized and cilia development in the Kupffer's vesicle is disrupted in setdb2-knockdown embryos. (A–I) Whole-mount mRNA in situ hybridization and statistical analyses of the expression of asymmetric genes southpaw (A–C), pitx2 (D–F, arrows), and lefty2 (G–I) in the 5-MM control and setdb2 MO2-injected embryos at the indicated developmental stages. L, Left side; R, Right side; C/B, central or bilateral; A, absent. All embryos are dorsal views with head to the top. (J–M) WISH analyses of charon (J and K, arrows) and lrdr1 expression (L and M, arrows) in the 5-MM control and setdb2 MO2-injected embryos. (N–Q) Morphology of Kupffer's vesicle (N and O, arrows) and confocol analyses of ciliary development (P and Q, green) as revealed by immunostaining with anti-acetylated tubulin antibody. The numbers in P and Q denote the mean ± SD. Embryos are ventral views in J, K, N, and O and lateral views in L and M.
Antibody Labeling Details
Acknowledgments:
ZFIN wishes to thank the journal Proceedings of the National Academy of Sciences of the United States of America for permission to reproduce figures from this article. Please note that this material may be protected by copyright. Full text @ Proc. Natl. Acad. Sci. USA