ZFIN ID: ZDB-FIG-080325-41
EXPRESSION / LABELING:
| | |
| --- | --- |
| Genes: | |
| Fish: | |
| Knockdown Reagent: | |
| Anatomical Term: | |
| Stage: | Prim-15 |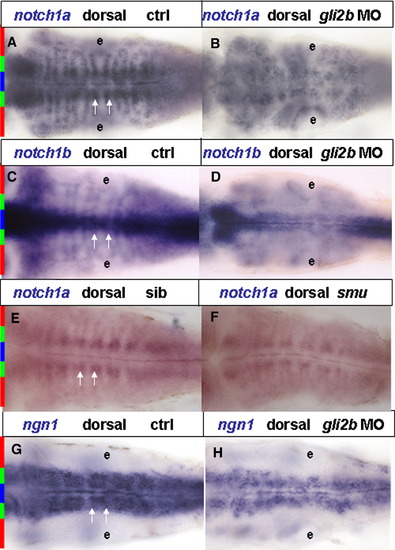 Fig. 3 Expression of early neurodifferentiation markers in the hindbrain of Gli2b morphant. (A, B) notch1a in Gli2b morphant (A) and control (B). (C, D) notch1b in Gli2b morphant (C) and control (D). (E, F) notch1a in a sibling (E) and smu mutant (F). (G, H) ngn1 in Gli2b morphant (G) and control (H). White arrows that indicate distance between medio-lateral clusters (A, E) encompass the whole domain of ngn1 expression (G). The relative positions of expression domains are indicated in left side of the panel: midline, blue bar; intermediate medio-lateral cluster, green bar; lateral loops; red bar. Abbreviations: e, ear.
Antibody Labeling Details
No data available
Phenotype Details
No data available
Acknowledgments:
ZFIN wishes to thank the journal Molecular and cellular neurosciences for permission to reproduce figures from this article. Please note that this material may be protected by copyright.

Reprinted from Molecular and cellular neurosciences, 37(2), Ke, Z., Kondrichin, I., Gong, Z., and Korzh, V., Combined activity of the two Gli2 genes of zebrafish play a major role in Hedgehog signaling during zebrafish neurodevelopment, 388-401, Copyright (2008) with permission from Elsevier. Full text @ Mol. Cell Neurosci.