ZFIN ID: ZDB-FIG-170227-6
EXPRESSION / LABELING:
Gene:
Antibodies:
Fish:
Anatomical Terms:
Stage Range:

Day 5

to

Adult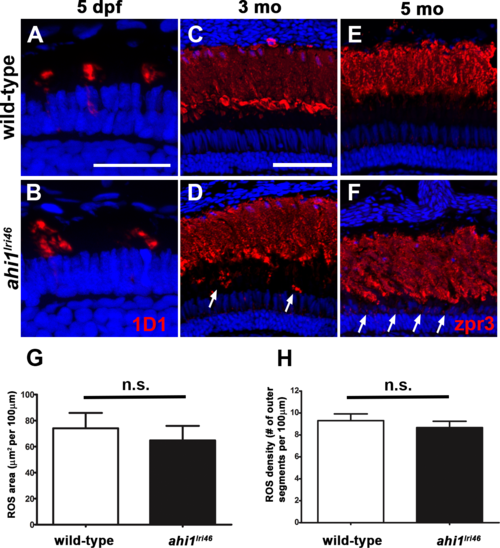 Fig. 6
Immunohistochemical analysis of rod photoreceptors in ahi1lri46 mutants. (A, B) Rod photoreceptors stained with 1D1 (red, rhodopsin) at 5 dpf. (C–F) Rod photoreceptors stained with zpr3 (red, rhodopsin) at 3- (C, D) and 5- (E, F) month-old animals. Arrows in (D) and (F) highlight rhodopsin mislocalization. (G) Quantification of rod outer segment area at 5 dpf. (H) Quantification of rod density at 5 dpf. Scale bars: 20 μm (A–B) and 50 μm (C–F).
Antibody Labeling Details
Acknowledgments:
ZFIN wishes to thank the journal Investigative ophthalmology & visual science for permission to reproduce figures from this article. Please note that this material may be protected by copyright. Full text @ Invest. Ophthalmol. Vis. Sci.