ZFIN ID: ZDB-FIG-090826-27
EXPRESSION / LABELING:
| | |
| --- | --- |
| Genes: | |
| Fish: | |
| Anatomical Terms: | |
| Stage: | Adult |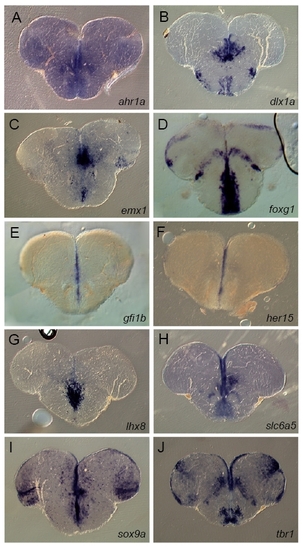 Fig. S6 Expression in the adult brain of the 10 differentially regulated transcripts chosen for validation (in situ hybridization - blue signal0 on cross sections at telencephalic levels, dorsal up). ahr1a (A), dlx1a (B), emx1 (C), foxg1 (D), gfi1b (E), her15 (F), lhx8 (G), slc6a5 (H), sox9a (I) and tbr1 (J) are expressed in the adult zebrafish brain, including the telencephalon, as illustrated here. gfi1b and her15 are restricted to the ventricular zone (midline, arrows). d=dorsal telencephalic area (pallium); v=ventral telencephalic area (subpallium).
Antibody Labeling Details
No data available
Phenotype Details
No data available
Acknowledgments:
This image is the copyrighted work of the attributed author or publisher, and ZFIN has permission only to display this image to its users. Additional permissions should be obtained from the applicable author or publisher of the image.

Open Access.

Full text @ Genome Biol.