ZFIN ID: ZDB-FIG-200306-122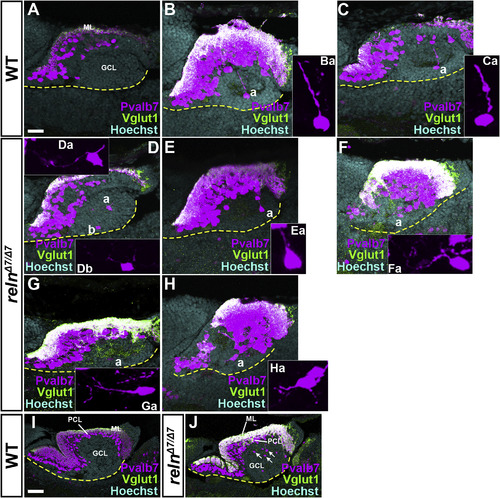 Fig. 7
Defects in the migration and polarity of PCs in reln mutants. Sagittal sections of the brain from WT (A-C, n= 4) and relnΔ7/Δ7 (D-H, n= 4) 15-dpf larvae, and from WT (I, n= 3) and relnΔ7/Δ7 (J, n= 3) 30-dpf fish, were stained with anti-Pvalb7 (magenta) and anti-Vglut1 (green) antibodies, and Hoechst (cyan). Typical cerebellum images are shown. The ventral limit of the cerebellum is indicated by a dotted line. (Ba, Ca, Da, Ea, Fa, Ga, Ha) High magnification images of the PCs marked by "a" in B–H. The Pvalb7 and Vglut1-double positive region marks the ML. Migrating PCs were detected in the GCL in WT, and they extended a neurite (primary dendrite) toward the pial side (Ba, Ca, n= 4). Many of the migrating cells extended one or multiple neurites in aberrant directions in the relnΔ7/Δ7mutants (Ea, Fa, Ga, Ha, n= 4). At 30 dpf, most of the PCs had reached the PCL in WT (I), whereas many ectopic PCs were detected in the GCL in relnΔ7/Δ7 mutants (J, n= 3). The abbreviations are described in the legend for Fig. 1. Scale bars: 20 μm in A (applies to A-H); 100 μm in I (applies to I-J).
Antibody Labeling Details
No data available
Acknowledgments:
ZFIN wishes to thank the journal Developmental Biology for permission to reproduce figures from this article. Please note that this material may be protected by copyright.

Reprinted from Developmental Biology, 455(2), Nimura, T., Itoh, T., Hagio, H., Hayashi, T., Di Donato, V., Takeuchi, M., Itoh, T., Inoguchi, F., Sato, Y., Yamamoto, N., Katsuyama, Y., Del Bene, F., Shimizu, T., Hibi, M., Role of Reelin in cell positioning in the cerebellum and the cerebellum-like structure in zebrafish, 393-408, Copyright (2019) with permission from Elsevier. Full text @ Dev. Biol.