ZFIN ID: ZDB-FIG-200306-120
EXPRESSION / LABELING:
| | |
| --- | --- |
| Genes: | |
| Antibody: | |
| Fish: | |
| Anatomical Terms: | |
| Stage: | Adult |
PHENOTYPE:
| | |
| --- | --- |
| Fish: | |
| Observed In: | |
| Stage: | Adult |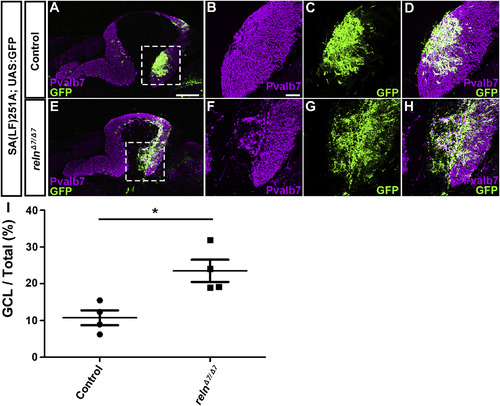 Fig. 5
Ectopic Bergmann glial cells (BGs) in reln mutants. (A–H) Aberrant localization of BGs in reln mutants. Sagittal section of adult (96 dpf) SAGFF(LF)251A; UAS:GFP brains, which express GFP in BGs, harboring WT (control, n= 5) or homozygous reln mutant (relnΔ7/Δ7, n= 5) alleles were stained with anti-Pvalb7 (magenta) and anti-GFP (green) antibodies. (B-D, F–H) High magnification images of the boxes in A and E. (I) Ratio of the BG (GFP+) area in the GCL to the total BG area in controls and relnΔ7/Δ7mutants. Fluorescence images were captured of every fourth section (14 total sections in each fish). The GFP+ area in the Pvalb7-negative GCL layer was measured and divided by the total GFP+ area in the cerebellum. *p< 0.05 (Mann-Whitney test). Scale bars: 300 μm in A (applies to A and E); 50 μm in B (applies to B-D and F–H).
Antibody Labeling Details
No data available
Acknowledgments:
ZFIN wishes to thank the journal Developmental Biology for permission to reproduce figures from this article. Please note that this material may be protected by copyright.

Reprinted from Developmental Biology, 455(2), Nimura, T., Itoh, T., Hagio, H., Hayashi, T., Di Donato, V., Takeuchi, M., Itoh, T., Inoguchi, F., Sato, Y., Yamamoto, N., Katsuyama, Y., Del Bene, F., Shimizu, T., Hibi, M., Role of Reelin in cell positioning in the cerebellum and the cerebellum-like structure in zebrafish, 393-408, Copyright (2019) with permission from Elsevier. Full text @ Dev. Biol.