ZFIN ID: ZDB-FIG-160608-17
PHENOTYPE:
| | |
| --- | --- |
| Fish: | |
| Knockdown Reagent: | |
| Observed In: | |
| Stage: | Prim-15 |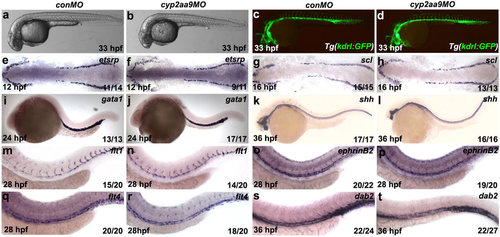 Fig. 2
The non-HSC tissues are unaffected in the cyp2aa9 morphants.
(a-d) The cyp2aa9 morphants in bright-field were morphologically normal (a, n = 110/110; b, n = 125/130) and with intact vasculature at 33 hpf under the Tg(kdrl:GFP) background (c, n = 21/21; d, n = 21/25). (e-t) The cyp2aa9 morphants displayed normal expressions of the following tissue-specific markers: primitive haematopoiesis (etsrp, e,f; scl, g,h; gata1, i,j), notochord (shh, k,l), dorsal aorta (flt1, m,n; ephrinB2, o,p) and posterior cardinal vein (flt4, q,r; dab2, s,t). (a-d,i-t) Lateral views, anterior left, dorsal up. (e-h) Dorsal views, anterior left.
Antibody Labeling Details
No data available
Acknowledgments:
ZFIN wishes to thank the journal Scientific Reports for permission to reproduce figures from this article. Please note that this material may be protected by copyright. Full text @ Sci. Rep.