ZFIN ID: ZDB-FIG-150415-18
Takamiya et al., 2015
- Molecular Description of Eye Defects in the Zebrafish Pax6b Mutant, sunrise, Reveals a Pax6b-Dependent Genetic Network in the Developing Anterior Chamber. PLoS One 10:e0117645
Full text @ PLoS One
EXPRESSION / LABELING:
| | |
| --- | --- |
| Genes: | |
| Fish: | |
| Anatomical Terms: | |
| Stage: | Adult |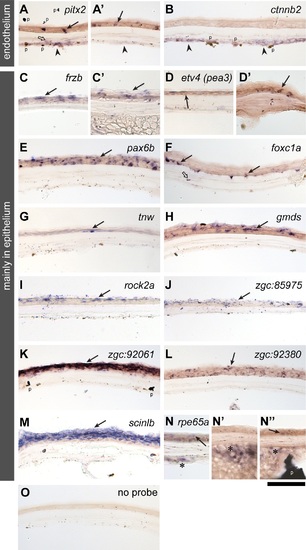 Fig. 2
In situ mRNA expression analysis in the adult zebrafish cornea.
Two major classes of expression patterns are shown for selected genes: genes mainly expressed in the corneal endothelium (paired-like homeodomain 2 (A-A′) and catenin, beta 2 (B)) and mainly in the corneal epithelium (frizzled-related protein (C), ets variant 4 (previously known as pea3, D-D′), paired box 6b (E), forkhead box C1a (F), tenascin W (G), GDP-mannose 4,6-dehydratase (H), rho-associated, coiled-coil containing protein kinase 2a (I), zgc:85975 (J), zgc:92061 (K), zgc:92380 (L), scinderin like b (M) and retinal pigment epithelium-specific protein 65a (N-N′′). A control without probe is shown in the panel O. Filled arrows, open arrows, arrowheads and asterisks indicate expression in the corneal epithelial, stromal, endothelial layers and the annular ligament, respectively. The black "flakes" (indicated by p in the panels of A, B, K and N′′) are derivatives of pigmentation unavoidably introduced during cryosectioning and its post-processing. Scale bar: 50 µm.
Antibody Labeling Details
No data available
Phenotype Details
No data available
Acknowledgments:
ZFIN wishes to thank the journal PLoS One for permission to reproduce figures from this article. Please note that this material may be protected by copyright. Full text @ PLoS One