ZFIN ID: ZDB-FIG-111018-32
Pikulkaew et al., 2011
- The knockdown of maternal glucocorticoid receptor mRNA alters embryo development in zebrafish. Developmental dynamics : an official publication of the American Association of Anatomists 240(4):874-889
Full text @ Dev. Dyn.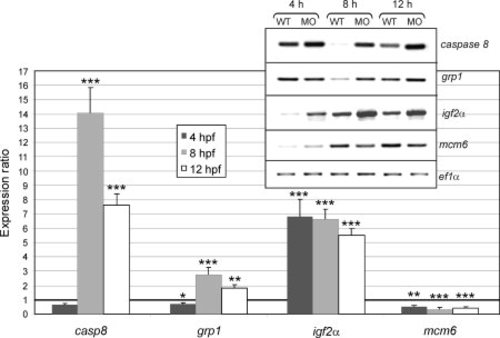 Fig. 7
Fold changes in gene expression of caspase 8, grp1, igf2α, mcm6 in grATG1MO-injected embryos compared to WT (set at 1). Values represent the mean ± S.E. (n = 3). Asterisks indicate that expression levels are significantly different: *P < 0.05; **P < 0.01; ***P < 0.001. The inset shows the RT-PCR results as visualized by agarose gel.
Antibody Labeling Details
No data available
Phenotype Details
No data available
Acknowledgments:
ZFIN wishes to thank the journal Developmental dynamics : an official publication of the American Association of Anatomists for permission to reproduce figures from this article. Please note that this material may be protected by copyright. Full text @ Dev. Dyn.