ZFIN ID: ZDB-FIG-110322-30
Pikulkaew et al., 2011
- The knockdown of maternal glucocorticoid receptor mRNA alters embryo development in zebrafish. Developmental dynamics : an official publication of the American Association of Anatomists 240(4):874-889
Full text @ Dev. Dyn.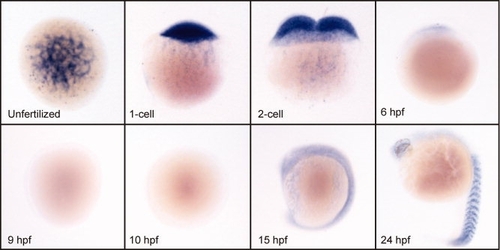 Fig. 1
Spatio-temporal expression of gr mRNA during zebrafish development evidenced by whole-mount in situ hybridization performed at the indicated stages. All embryos are lateral views with the animal pole up (1- and 2-cell embryos and at 6, 9, and 10 hpf) and head up pointing to the left (15 and 24 hpf). Note that expression levels of gr mRNA are lost at 9 and 10 hpf and again detected at 15 hpf.
Antibody Labeling Details
No data available
Phenotype Details
No data available
Acknowledgments:
ZFIN wishes to thank the journal Developmental dynamics : an official publication of the American Association of Anatomists for permission to reproduce figures from this article. Please note that this material may be protected by copyright. Full text @ Dev. Dyn.