ZFIN ID: ZDB-FIG-110214-2
EXPRESSION / LABELING:
| | |
| --- | --- |
| Genes: | |
| Fish: | |
| Knockdown Reagent: | |
| Anatomical Terms: | |
| Stage: | Prim-5 |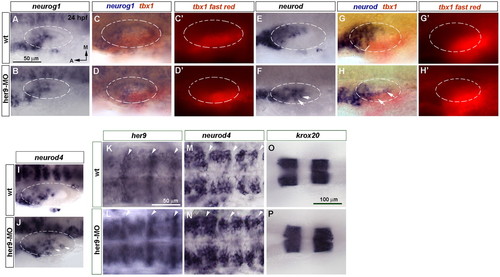 Fig. 2 Blocking her9 function results in ectopic expression of the proneural genes neurod and neurod4. (A-J) In situ hybridization of 24 hpf wild-type (wt) and Her9 morphant zebrafish embryos to detect changes in neurog1 (A-D′), neurod (E-H′) and neurod4 (I,J) expression in the inner ear. (C-D′,G-H′) Double in situ hybridization for tbx1 (red chromogen in C,D,G,H and red fluorescence in C′,D′,G′,H′) and neurog1 (blue) or neurod (blue). Dashed circles delineate the otic vesicle. Arrows indicate ectopic neurogenesis. (K,L) Expression of high levels of her9 at the hindbrain rhombomeric boundaries (arrowheads). (M,N) neurod4 expression is expanded in the hindbrain. (O,P) krox20 expression in rhombomeres 3 and 5 is unchanged in Her9 morphants. A-J, K-N and O,P are at the same magnification.
Antibody Labeling Details
No data available
Phenotype Details
No data available
Acknowledgments:
This image is the copyrighted work of the attributed author or publisher, and ZFIN has permission only to display this image to its users. Additional permissions should be obtained from the applicable author or publisher of the image. Full text @ Development