ZFIN ID: ZDB-FIG-090519-9
EXPRESSION / LABELING:
| | |
| --- | --- |
| Genes: | |
| Fish: | |
| Knockdown Reagents: | |
| Anatomical Terms: | |
| Stage: | Prim-5 |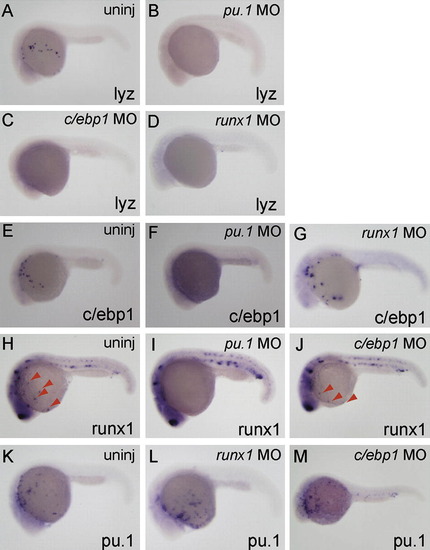 Fig. 3 Differential requirement of myeloid-expressed transcription factor on the expression of c/ebp1, pu.1 and runx1. Whole-mount in situ hybridization with probes shown at bottom right of each panel. Injected morpholinos are indicated at top right. All embryos are around 24 hpf and lateral view; anterior is left. (A–D) lyz expression was inhibited in pu.1 MO-, runx1 MO- and c/ebp1 MO-injected embryos. (E–G) The expression of c/ebp1 in myeloid cells was suppressed in pu.1 morphants, but not in runx1 morphants. (H–J) The runx1 expression in myeloid cells (red arrowheads; H and J), but not in the ICM and Rohon-beard cells, was inhibited in pu.1 morphants, while injection of c/ebp1 MO did not affect runx1 expression. (K–M) pu.1 expression in myeloid cells was comparably detected in uninjected-, runx1 MO-injected and c/ebp1 MO-injected embryos.
Antibody Labeling Details
No data available
Phenotype Details
No data available
Acknowledgments:
ZFIN wishes to thank the journal Mechanisms of Development for permission to reproduce figures from this article. Please note that this material may be protected by copyright.

Reprinted from Mechanisms of Development, 126(5-6), Kitaguchi, T., Kawakami, K., and Kawahara, A., Transcriptional regulation of a myeloid-lineage specific gene lysozyme C during zebrafish myelopoiesis, 314-323, Copyright (2009) with permission from Elsevier. Full text @ Mech. Dev.