ZFIN ID: ZDB-FIG-090113-96
EXPRESSION / LABELING:
| | |
| --- | --- |
| Gene: | |
| Fish: | |
| Knockdown Reagent: | |
| Anatomical Term: | |
| Stage: | Prim-5 |
PHENOTYPE:
Fish:
Knockdown Reagent:
Observed In:
Stage Range:

Prim-5

to

Day 4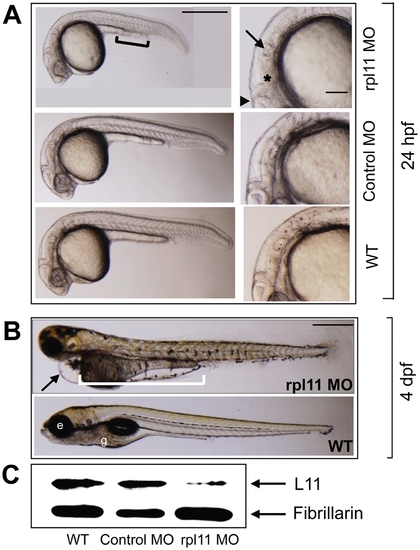 Fig. 1 L11 deficiency causes morphological defects in zebrafish.
(A) Lateral views of morphants (rpl11 MO, upper panel), controls (control MO, middle panel), and wild-type embryos (WT, lower panel) at 24 hpf. The morphants are smaller in size to the control embryos and the yolk sac extension is incomplete (black solid line). The right hand panel shows a close-up of the head region. The morphants display deformities in various parts of the brain, such as the midbrain-hindbrain boundary (filled black triangle), hindbrain (asterisk), and otolith (arrow). (B) Morphological observation of morphants and wild-type embryos at 4 dpf. The morphants have a smaller head and eyes, severe edema of the heart (arrow, upper panel), and incomplete yolk consumption with no gut (white solid line, upper panel) compared to wild-type embryos. (C) Western blot analysis of L11 in the morphants and control embryos with fibrillarin as a loading control. All images are anterior to the left. Scale bars: A, 500 μm (left panel), 100 μm (right panel); B, 500 μm. e, eye; g, gut.
Antibody Labeling Details
No data available
Phenotype Details
| Fish | Conditions | Stage | Phenotype |
| --- | --- | --- | --- |
| WT + MO1-rpl11 | standard conditions | Prim-5 | extension decreased size, abnormal |
| | | Prim-5 | eye pigmentation delayed, abnormal |
| | | Prim-5 | forebrain increased size, abnormal |
| | | Prim-5 | head opaque, abnormal |
| | | Prim-5 | hindbrain malformed, abnormal |
| | | Prim-5 | inner ear morphology, abnormal |
| | | Prim-5 | midbrain-hindbrain boundary structural organization disrupted, abnormal |
| | | Prim-5 | otolith deformed, abnormal |
| | | Prim-5 | whole organism decreased length, abnormal |
| | | Day 4 | eye decreased size, abnormal |
| | | Day 4 | gut aplastic, abnormal |
| | | Day 4 | head decreased size, abnormal |
| | | Day 4 | pericardium edematous, abnormal |
Acknowledgments:
ZFIN wishes to thank the journal PLoS One for permission to reproduce figures from this article. Please note that this material may be protected by copyright. Full text @ PLoS One