ZFIN ID: ZDB-FIG-160427-5
Ahuja et al., 2016
- Id4 functions downstream of Bmp signaling to restrict TCF function in endocardial cells during atrioventricular valve development. Developmental Biology 412(1):71-82
Full text @ Dev. Biol.
EXPRESSION / LABELING:
| | |
| --- | --- |
| Genes: | |
| Fish: | |
| Anatomical Terms: | |
| Stage: | Long-pec |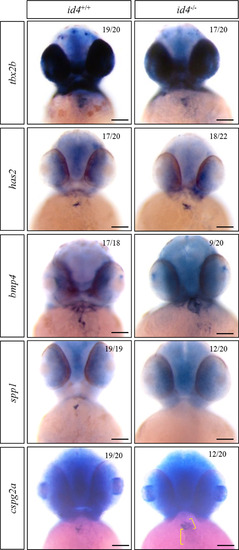 Fig. 4
AV canal marker gene expression analysis in id4 mutants at 52 hpf. Myocardial (tbx2b, bmp4, cspg2a) and endocardial (has2, spp1) AVC marker gene expression was analyzed in embryos from incrosses of id4 heterozygous animals. After in situ hybridization, embryos were separated according to expression patterns and subsequently genotyped. Amongst these markers, tbx2b and has2 expression were found to be unchanged, bmp4 and cspg2a were misexpressed and spp1 expression was reduced in id4 mutants. Scale bars, 100 µm.
Antibody Labeling Details
No data available
Acknowledgments:
This image is the copyrighted work of the attributed author or publisher, and ZFIN has permission only to display this image to its users. Additional permissions should be obtained from the applicable author or publisher of the image.

Reprinted from Developmental Biology, 412(1), Ahuja, S., Dogra, D., Stainier, D.Y., Reischauer, S., Id4 functions downstream of Bmp signaling to restrict TCF function in endocardial cells during atrioventricular valve development, 71-82, Copyright (2016) with permission from Elsevier. Full text @ Dev. Biol.