ZFIN ID: ZDB-FIG-160427-9
Ahuja et al., 2016
- Id4 functions downstream of Bmp signaling to restrict TCF function in endocardial cells during atrioventricular valve development. Developmental Biology 412(1):71-82
Full text @ Dev. Biol.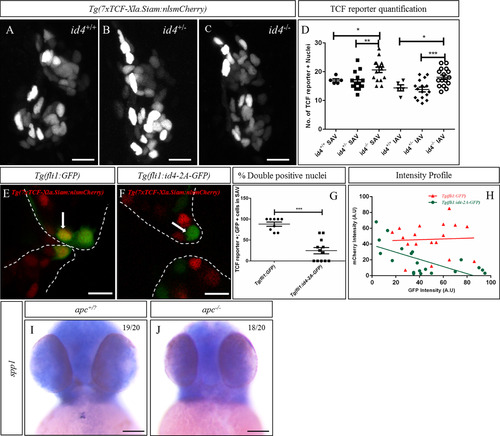 Fig. 8
Id4 negatively regulates TCF function in the atrioventricular canal (AVC). (A, B, C) Larvae from incrosses of id4 heterozygous fish or from crossing id4+/- males to id4-/- females in a Tg(7xTCF-Xla.Siam:nlsmCherry) background were imaged at 77 hpf followed by quantification (D) of TCF positive nuclei. We observed a significant increase in the number of TCF reporter positive cells in id4 mutants as compared to siblings. (E, F) Transient endothelial specific overexpression of id4 caused a dose dependent reduction of TCF reporter signal (F) in the AVC as compared to the overexpression of GFP alone (E). Arrows point to GFP expressing TCF reporter positive nuclei (E) and id4 expressing TCF reporter negative nuclei (F). (G) Percentage of TCF reporter positive cells in transient GFP and id4 overexpression larvae and their intensity profile (H). (I, J) At 52 hpf, apc mutants show reduced spp1 expression as compared to their wild-type siblings. Scale bars, A-C and E-F: 10 µm; I-J: 100 µm (SAV, Superior AVC; IAV, Inferior AVC.) p value *<0.05, **<0.01, ***<0.001.
Antibody Labeling Details
No data available
Acknowledgments:
This image is the copyrighted work of the attributed author or publisher, and ZFIN has permission only to display this image to its users. Additional permissions should be obtained from the applicable author or publisher of the image.

Reprinted from Developmental Biology, 412(1), Ahuja, S., Dogra, D., Stainier, D.Y., Reischauer, S., Id4 functions downstream of Bmp signaling to restrict TCF function in endocardial cells during atrioventricular valve development, 71-82, Copyright (2016) with permission from Elsevier. Full text @ Dev. Biol.