ZFIN ID: ZDB-FIG-150213-3
EXPRESSION / LABELING:
| | |
| --- | --- |
| Genes: | |
| Fish: | |
| Knockdown Reagents: | |
| Anatomical Terms: | |
| Stage: | 10-13 somites |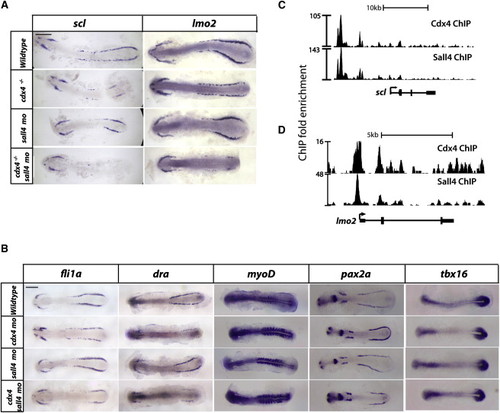 Fig. 4
scl and lmo2 Are Responsible for the Loss of RBCs Seen in cdx4-/-;sall4mo Embryos.
(A and B) scl (A) and lmo2 (B) WISH at the 10-somite stage wild-type or cdx4-/- embryos that are either uninjected or sall4mo injected. Embryos were flat-mounted, with the anterior end pointing to the left and the posterior end pointing to the right.
(C) fli1a, draculin, pax2a, myoD, and tbx16 WISH in 10-somite stage wild-type, cdx4mo, sall4mo, cdx4mo/sall4mo embryos. All scale bars, 200 µm.
(D and E) Gene track of the scl (D) and lmo2 (E) loci, showing Cdx4 and Sall4 binding.
See also Figure S4.
Antibody Labeling Details
No data available
Phenotype Details
No data available
Acknowledgments:
ZFIN wishes to thank the journal Stem Cell Reports for permission to reproduce figures from this article. Please note that this material may be protected by copyright. Full text @ Stem Cell Reports