ZFIN ID: ZDB-FIG-140422-42
EXPRESSION / LABELING:
| | |
| --- | --- |
| Genes: | |
| Fish: | |
| Knockdown Reagents: | |
| Anatomical Terms: | |
| Stage: | Prim-5 |
PHENOTYPE:
| | |
| --- | --- |
| Fish: | |
| Knockdown Reagents: | |
| Observed In: | |
| Stage: | Prim-5 |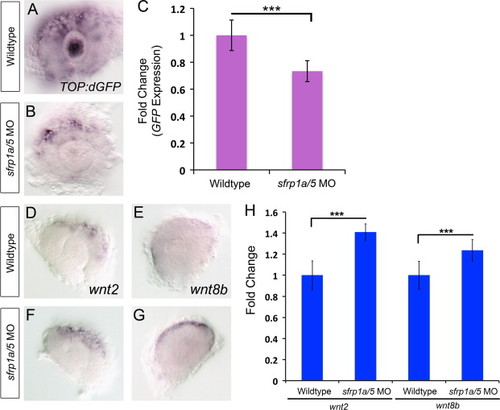 Fig. 4
sfrp1a/sfrp5 positively regulate Wnt signaling. To determine the function of Sfrp proteins in regulating Wnt signaling, we examined wnt ligand mRNA expression and a transgene reporter of Wnt signaling using whole mount in situ hybridization and quantitative PCR. In situ hybridization for eGFP mRNA in the Tg(TOP:dGFP) line shows a decrease in eGFP expression in sfrp1a/5 MO co-injected embryos, indicating a decrease in Wnt signaling at 28 hpf (A,B). The effects of Sfrp depletion on eGFP expression were confirmed using quantitative RT-PCR (C, NNN, p<0.001). In situ hybridization of Wnt ligands wnt2 and wnt8b at 28 hpf show an expansion in the expression domain of wnt2 and wnt8b in the dorsal retina in sfrp1a/5 MO injected embryos (D–G). qRT-PCR confirmed a 1.33 fold change in wnt2 and 1.38 fold change in wnt8b expression (H, NNN, p<0.005).
Antibody Labeling Details
No data available
Acknowledgments:
ZFIN wishes to thank the journal Developmental Biology for permission to reproduce figures from this article. Please note that this material may be protected by copyright.

Reprinted from Developmental Biology, 388(2), Holly, V.L., Widen, S.A., Famulski, J.K., and Waskiewicz, A.J., Sfrp1a and Sfrp5 function as positive regulators of Wnt and BMP signaling during early retinal development, 192-204, Copyright (2014) with permission from Elsevier. Full text @ Dev. Biol.