ZFIN ID: ZDB-FIG-140422-44
EXPRESSION / LABELING:
Genes:
Fish:
Condition:
Knockdown Reagents:
Anatomical Terms:
Stage Range:

10-13 somites

to

Prim-5
PHENOTYPE:
| | |
| --- | --- |
| Fish: | |
| Knockdown Reagents: | |
| Observed In: | |
| Stage: | Prim-5 |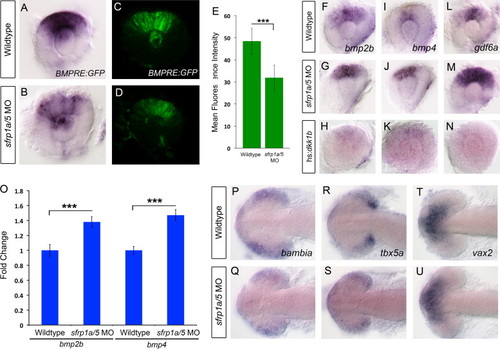 Fig. 6
sfrp1a/sfrp5 positively regulate BMP signaling during retinal development. Given the observed alterations in dorsal retina marker gene expression, we sought to investigate the activity of BMP signaling in Sfrp depleted retinas. We measured BMP pathway activity by employing a BMP responsive transgene, Tg(BMPRE-AAV.Mlp:eGFP), which is abbreviated BMPRE:GFP. In situ hybridization for GFP mRNA, or fluorescence microscopy results indicate that compared to WT, sfrp1a/5 MO co-injected embryos display a marked decrease in GFP signal at 28 hpf (A–D). Measurements of mean retinal fluorescence intensity indicate a significant decrease in GFP signal in sfrp1a/5 MO injected embryos (E, NNN, p<0.0001). To assess expression of BMP ligand mRNAs, we conducted in situ hybridization of BMP ligands bmp2b, bmp4 and gdf6a at 28 hpf. Compared to WT, sfrp1a/5 MO injected embryos display an increase in BMP ligand expression (F–G, I–J, L–M). Conversely, inhibition of Wnt signaling by heat shock activation of dkk1b, greatly reduces expression of bmp2b, bmp4 and gdf6a at 28 hpf (H,K,N). qRT-PCR of bmp2b and bmp4 confirmed a 1.38 and 1.47 fold change in expression respectively (O, NNN, p<0.0001). To assess the functions of Sfrp proteins in the BMP-dependent initiation phase of retinal patterning, we conducted in situ hybridization for bambia and tbx5a and ventral marker vax2 during the initiation of dorsal eye patterning at 15 hpf. Compared to WT, sfrp1a/5 MO injected embryos display a decrease in tbx5a and bambia expression levels and domain while vax2 appears unaffected (P–U).
Antibody Labeling Details
No data available
Acknowledgments:
ZFIN wishes to thank the journal Developmental Biology for permission to reproduce figures from this article. Please note that this material may be protected by copyright.

Reprinted from Developmental Biology, 388(2), Holly, V.L., Widen, S.A., Famulski, J.K., and Waskiewicz, A.J., Sfrp1a and Sfrp5 function as positive regulators of Wnt and BMP signaling during early retinal development, 192-204, Copyright (2014) with permission from Elsevier. Full text @ Dev. Biol.