ZFIN ID: ZDB-FIG-080516-45
Your Input Welcome
Thank you for submitting comments. Your input has been emailed to ZFIN curators who may contact you if additional information is required.
Oops. Something went wrong. Please try again later.
EXPRESSION / LABELING:
| | |
| --- | --- |
| Genes: | |
| Fish: | |
| Knockdown Reagents: | |
| Anatomical Terms: | |
| Stage: | Prim-5 |
PHENOTYPE:
| | |
| --- | --- |
| Fish: | |
| Knockdown Reagents: | |
| Observed In: | |
| Stage: | Prim-5 |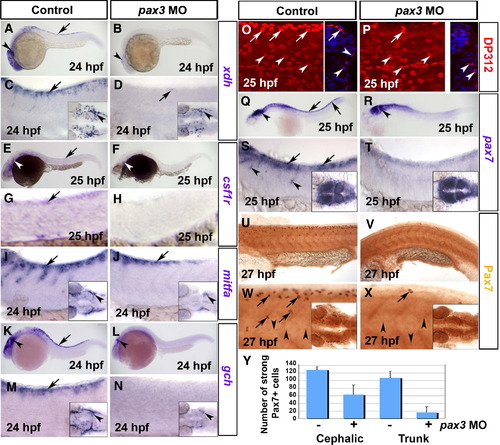 Fig. 3 Pax3 morphants have a defect at early stages of xanthophore development. Control (A, C, E, G, I, K, M, O, Q, S, U, W) and pax3 MO-injected (B, D, F, H, J, L, N, P, R, T, V, X) 1-day-old zebrafish embryos analysed by in situ mRNA hybridisation for xdh (A–D), csf1r (E–H), mitfa (I, J), gch (K–N) or pax7 (Q–T) or by immunodetection for Pax3/7 with DP312 (O, P) or anti-Pax7 (U–Y). Lateral views anterior to left. Insets show dorsal views of the head region. (A–D) Pax3 MO essentially ablates xdh mRNA in trunk (arrows), but reduced expression persists in the head (arrowheads). (E–H) Csf1r mRNA is undetectable in pax3 morphant trunk. Although residual expression is present in pax3 morphant head, it appears differently localised compared to xdh (white arrowheads). (I, J) In control embryos, expression of the chromatophore marker mitfa shows the start of NC migration in anterior trunk. In pax3 morphants, mitfa expression is severely reduced, but less so than xdh and csf1r. (K–N) Gch mRNA is strongly depleted in trunk of pax3 morphants (arrows), but is still detectable in head (arrowhead). (O, P) At 25 hpf, DP312 detects cells in the dermomyotome weakly (arrowheads) and pre-migratory NC cells intensely (arrows). In pax3 morphants, the strongly-labelled NC cells are dramatically reduced, whereas dermomyotome signal remains. Note the co-localisation of Pax3/7 and Hoechst 33258 DNA stain in transverse cryosections of one side of the trunk at right. (Q–T) At 25 hpf, pax7 mRNA is lost from trunk NC cells, but retained in dermomyotome and neural tube. (U–X) Immunodetection of Pax7 at 27 hpf demonstrates that intensely labelled cells migrate in an anterior to posterior wave on the lateral surface of the somite, resembling NC. Pax7+ cells are severely reduced or absent in the trunk of pax3 morphants, and mildly affected in head regions (insets). (Y) Counts of strongly Pax7+ NC cells quantify the difference in severity between head and trunk regions.
Antibody Labeling Details
No data available
Acknowledgments:
ZFIN wishes to thank the journal Developmental Biology for permission to reproduce figures from this article. Please note that this material may be protected by copyright.

Reprinted from Developmental Biology, 317(2), Minchin, J.E., and Hughes, S.M., Sequential actions of Pax3 and Pax7 drive xanthophore development in zebrafish neural crest, 508-522, Copyright (2008) with permission from Elsevier. Full text @ Dev. Biol.