ZFIN ID: ZDB-FIG-170531-8
Your Input Welcome
Thank you for submitting comments. Your input has been emailed to ZFIN curators who may contact you if additional information is required.
Oops. Something went wrong. Please try again later.
EXPRESSION / LABELING:
Genes:
Fish:
Knockdown Reagent:
Anatomical Terms:
Stage Range:

Prim-5

to

Day 4
PHENOTYPE:
Fish:
Knockdown Reagent:
Observed In:
Stage Range:

Prim-5

to

Day 4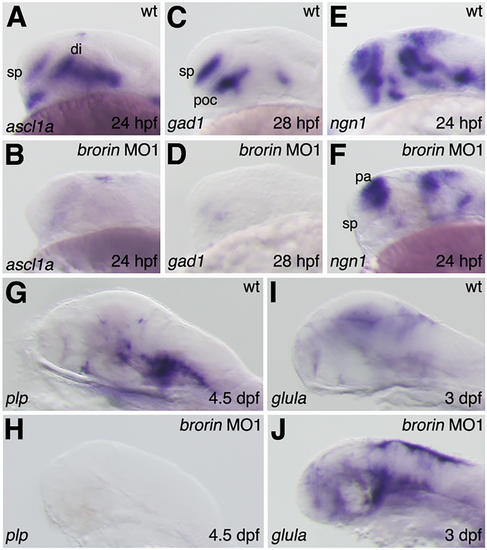 Fig. 7
Specification of GABAergic interneurons and oligodendrocytes, and astroglial development in brorin morphants.
The expression of ascl1a (A, B), gad1 (C, D), ngn1 (E, F), plp (G, H), and glula (I, J) in wild-type embryos (A, C, E, G, I) and brorin morphants (B, D, F, H, J) is displayed at the indicated stages. di, diencephalon; pa, pallial telencephalon; poc, postoptic commissure; sp, subpallial telencephalon.
Antibody Labeling Details
No data available
Phenotype Details
| Fish | Conditions | Stage | Phenotype |
| --- | --- | --- | --- |
| WT + MO1-vwc2 | standard conditions | Prim-5 | diencephalon GABAergic neuron ascl1a expression decreased amount, abnormal |
| | | Prim-5 | diencephalon neuron differentiation decreased process quality, abnormal |
| | | Prim-5 | diencephalon ventral region neurog1 expression decreased amount, abnormal |
| | | Prim-5 | forebrain GABAergic neuron differentiation decreased process quality, abnormal |
| | | Prim-5 | nucleus of the tract of the postoptic commissure GABAergic neuron gad1b expression decreased amount, abnormal |
| | | Prim-5 | ventral telencephalon GABAergic neuron gad1b expression decreased amount, abnormal |
| | | Prim-5 | ventral telencephalon GABAergic neuron ascl1a expression decreased amount, abnormal |
| | | Prim-5 | ventral telencephalon neuron differentiation decreased process quality, abnormal |
| | | Protruding-mouth | brain astrocyte glula expression increased amount, abnormal |
| | | Protruding-mouth | brain astrocyte development increased occurrence, abnormal |
| | | Day 4 | brain oligodendrocyte plp1a expression decreased amount, abnormal |
| | | Day 4 | brain oligodendrocyte development decreased occurrence, abnormal |
Acknowledgments:
ZFIN wishes to thank the journal PLoS One for permission to reproduce figures from this article. Please note that this material may be protected by copyright. Full text @ PLoS One