ZFIN ID: ZDB-FIG-110224-21
EXPRESSION / LABELING:
| | |
| --- | --- |
| Gene: | |
| Fish: | |
| Knockdown Reagents: | |
| Anatomical Term: | |
| Stage: | Prim-15 |
PHENOTYPE:
| | |
| --- | --- |
| Fish: | |
| Knockdown Reagents: | |
| Observed In: | |
| Stage: | Prim-15 |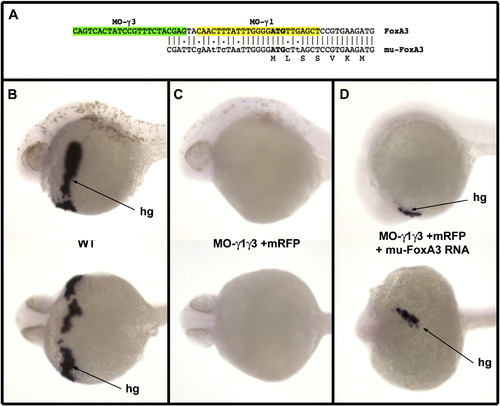 Fig. S7 Rescue of FoxA3 morphants by a FoxA3 RNA mutated at the level of the morpholino target sequences. (A) Sequence of the 5′ region of the mutated FoxA3 construct. This mutant overlaps only with three of the four last nucleotides, which hybridizes to MO-g3, and six mismatches have been introduced in the sequence, which hybridizes to MO-γ1. (B) In situ hybridization with Hgg1 a specific marker for the hatching gland (hg) at 30 hpf in lateral view (top) and ventral view (bottom) visualizing the differentiated hatching gland in wild-type embryo. (C) Injection of 8 ng of each MO-γ1 and MO-γ3 results in embryos devoid of all hgg1 expressing cells (58/58 injected embryos). (D) Injection of 8 ng of each morpholino at the one cell stage followed by injection of 25 pg of the mutated FoxA3 RNA in a marginal blastomere at the 32 cell stage results in embryos displaying Hgg1 expressing cells in 11 out of 46 injected embryos (injection in marginal blastomeres at late stage generate clones expressing FoxA3 which overlap at least partially with the prechordal plate territory in about 25% of the embryos).
Antibody Labeling Details
No data available
Acknowledgments:
ZFIN wishes to thank the journal Developmental Biology for permission to reproduce figures from this article. Please note that this material may be protected by copyright.

Reprinted from Developmental Biology, 350(2), Dal-Pra, S., Thisse, C., and Thisse, B., FoxA transcription factors are essential for the development of dorsal axial structures, 484-495, Copyright (2011) with permission from Elsevier. Full text @ Dev. Biol.