ZFIN ID: ZDB-FIG-200713-37
EXPRESSION / LABELING:
Genes:
Antibody:
Fish:
Anatomical Terms:
Stage Range:

Day 6

to

Adult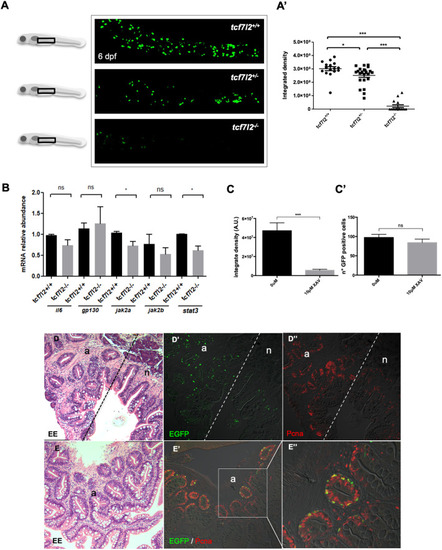 Fig. 7.
Tcf7l2 (Tcf4) is required for development of Stat3-responsive cells of zebrafish larvae intestine and the Stat3 pathway is activated ectopically in intestinal adenomas of apchu745 mutants. (A,A′) In vivo EGFP fluorescence in the intestine of 6 dpf Tg(7xStat3:EGFP)/tcf7l2hu892/hu892, Tg(7xStat3:EGFP)/tcf7l2+/hu892 and Tg(7xStat3:EGFP)/tcf7l2+/+ siblings (A) and measurement of integrated density (A′) (n=16). (B) qPCR analysis of il6, gp130, jak2a, jak2b and stat3 mRNA expression from tcf7l2+/+ and tcf7l2hu892/hu892 sibling larvae. (C,C′) Effect of XAV treatment on Tg(7xStat3:EGFP) embryos from 48 to 78 hpf: measurement of the integrated density of the fluorescence (C) and measurement of the number of GFP+ cells (C′). (D,E) Haematoxylin-eosin staining on paraffin embedded transversal section of zebrafish apchu745 intestine at 12 months post fertilization, displaying both normal tissue (n) and hyperplastic adenomas (a). (D′,D″) Staining of a sequential intestinal section of D using α-EGFP (green) (D′) and α-PCNA (red) (D″) Abs. (E′,E″) Double staining using α-EGFP Ab (green) and α-PCNA Ab (red) of a sequential intestinal section of E. All statistical analyses were performed by unpaired t-test. *P<0.05, ***P<0.001; ns, not significant. Error bars indicate s.e.m.
Antibody Labeling Details
Acknowledgments:
This image is the copyrighted work of the attributed author or publisher, and ZFIN has permission only to display this image to its users. Additional permissions should be obtained from the applicable author or publisher of the image. Full text @ Development