ZFIN ID: ZDB-FIG-180104-23
PHENOTYPE:
Fish:
Knockdown Reagents:
Observed In:
Stage Range:

Long-pec

to

Day 4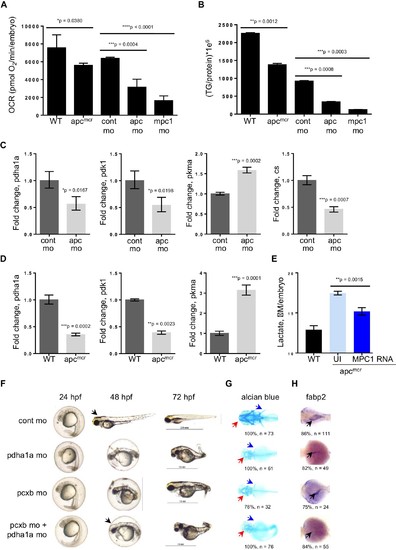 Fig. 4
Knock down of mpc1 or apc leads to altered mitochondrial respiration and pyruvate metabolism.
(A) Mitochondrial respiration was evaluated by measuring oxygen consumption rates (OCR) in 72 hpf embryos. (B) Triglyceride (TG) levels were determined in lysates prepared from 72 hpf embryos using a colorimetric assay. (C,D) Quantitative RT-PCR analysis of enzymes involved in pyruvate metabolism in apc mo and (C) apcmcr (D) embryos. pyruvate dehydrogenase alpha 1a (pdha1a); pyruvate dehydrogenase kinase, isozyme 1 (pdk1); pyruvate kinase, muscle, a (pkma); citrate synthase (cs). (E) Lactate levels in apc wild type (WT), un-injected apcmcr (UI) or apcmcr embryos injected with human MPC1 mRNA (MPC1 RNA). For figures A–E, values represent mean ± SD. Graph shown above is representative of at least three independent experiments. Statistical significance was analyzed using unpaired t-test. (F,G,H) Gross phenotype (F), alcian blue staining (G) and in situ hybridization for fabp2 (H) in pdha1a, pcxb, and pcxb + pdha1a mo. pcxb (pyruvate carboxylase b). See also Figure 4—figure supplements 1, 2.
Antibody Labeling Details
No data available
Phenotype Details
| Fish | Conditions | Stage | Phenotype |
| --- | --- | --- | --- |
| TU + MO1-mpc1 | standard conditions | Protruding-mouth | aerobic respiration decreased rate, abnormal |
| | | Protruding-mouth | whole organism triglyceride decreased amount, abnormal |
| TU + MO1-pcxb | standard conditions | Long-pec | pericardium edematous, abnormal |
| | | Protruding-mouth | digestive tract development process quality, abnormal |
| | | Protruding-mouth | exocrine pancreas fabp2 expression decreased amount, abnormal |
| | | Protruding-mouth | pericardium edematous, abnormal |
| | | Day 4 | mandibular arch skeleton cartilage development decreased occurrence, abnormal |
| | | Day 4 | pectoral fin absent, abnormal |
| TU + MO1-pcxb + MO1-pdha1a | standard conditions | Long-pec | hindbrain increased size, abnormal |
| | | Long-pec | pericardium edematous, abnormal |
| | | Protruding-mouth | digestive tract development process quality, abnormal |
| | | Protruding-mouth | exocrine pancreas fabp2 expression decreased amount, abnormal |
| | | Protruding-mouth | pericardium edematous, abnormal |
| | | Day 4 | mandibular arch skeleton cartilage development decreased occurrence, abnormal |
| | | Day 4 | pectoral fin absent, abnormal |
| TU + MO1-pdha1a | standard conditions | Long-pec | pericardium edematous, abnormal |
| | | Protruding-mouth | digestive tract development process quality, abnormal |
| | | Protruding-mouth | exocrine pancreas fabp2 expression decreased amount, abnormal |
| | | Protruding-mouth | pericardium edematous, abnormal |
| | | Day 4 | mandibular arch skeleton cartilage development decreased occurrence, abnormal |
| | | Day 4 | pectoral fin absent, abnormal |
| TU + MO3-apc | standard conditions | Protruding-mouth | aerobic respiration decreased rate, abnormal |
| | | Protruding-mouth | whole organism cs expression decreased amount, abnormal |
| | | Protruding-mouth | whole organism pdha1a expression decreased amount, abnormal |
| | | Protruding-mouth | whole organism pdk1 expression decreased amount, abnormal |
| | | Protruding-mouth | whole organism pkma expression increased amount, abnormal |
| | | Protruding-mouth | whole organism triglyceride decreased amount, abnormal |
| apchu745/hu745 | standard conditions | Protruding-mouth | aerobic respiration decreased rate, abnormal |
| | | Protruding-mouth | whole organism pdha1a expression decreased amount, abnormal |
| | | Protruding-mouth | whole organism pdk1 expression decreased amount, abnormal |
| | | Protruding-mouth | whole organism pkma expression increased amount, abnormal |
| | | Protruding-mouth | whole organism lactate increased amount, abnormal |
| | | Protruding-mouth | whole organism triglyceride decreased amount, abnormal |
Acknowledgments:
This image is the copyrighted work of the attributed author or publisher, and ZFIN has permission only to display this image to its users. Additional permissions should be obtained from the applicable author or publisher of the image. Full text @ Elife