ZFIN ID: ZDB-FIG-160224-5
EXPRESSION / LABELING:
| | |
| --- | --- |
| Genes: | |
| Fish: | |
| Anatomical Terms: | |
| Stage: | Long-pec |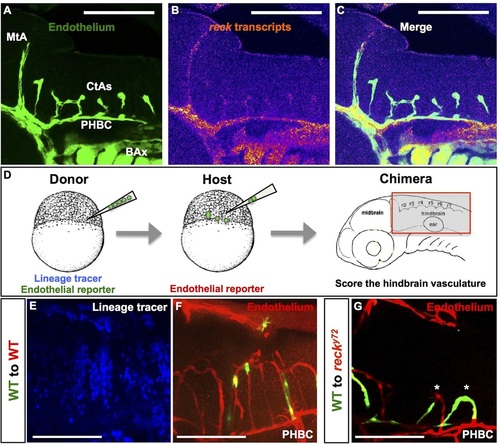 Fig. 5
reck is expressed in the cerebral endothelium where it is required non-cell autonomously for intracerebral vascularization. (A-C) Confocal lateral views of a 48hpf WT Hb. Anterior, left; dorsal, up. (A) Endothelium is green [Tg(fli1a:eGFP)y1]. (B) Fluorescent intensity of reck transcripts detected via RNA in situ HCR. Warmer and cooler colors represent, respectively, signals of higher and lower fluorescent intensity. reck is expressed in cerebral vessels (MtA, CtAs and PHBC) and BAx. (D) Workflow of cell transplantation experiments. Chimeras were analyzed at ~72hpf. (E-G) Confocal lateral views of the Hb of two chimeras. Anterior, left; dorsal, up. Donor endothelium, green [Tg(kdrl:EGFP)1a116]; host endothelium, red [Tg(kdrl:RFP)s896]; lineage tracer, blue (Rhodamine 647 Dextran). (E,F) Chimera made using WT embryos. Note mosaicism in both the Hb environment (blue) and the CtAs (green and red). (G) Chimera made using a WT donor and a reck y72 host. Note mosaic CtAs (asterisks) containing both WT (green) and mutant (red) endothelial cells. Scale bars: 100µm.
Antibody Labeling Details
No data available
Phenotype Details
No data available
Acknowledgments:
ZFIN wishes to thank the journal Development (Cambridge, England) for permission to reproduce figures from this article. Please note that this material may be protected by copyright. Full text @ Development