ZFIN ID: ZDB-FIG-140321-11
Miller et al., 2000
- sucker encodes a zebrafish Endothelin-1 required for ventral pharyngeal arch development. Development (Cambridge, England) 127(17):3815-3828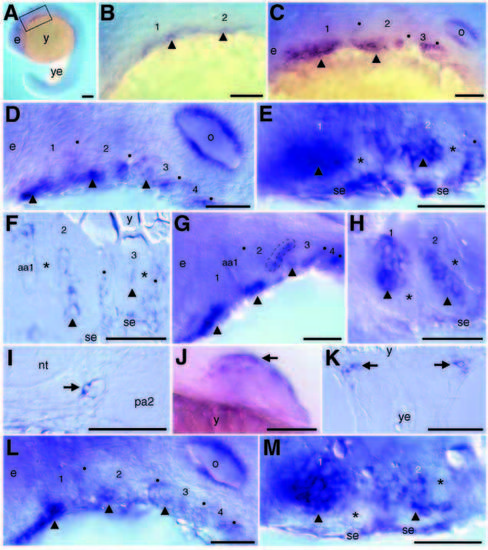 Fig. 4 suc/et-1 expression in wild-type (A-K) and suc/et-1 mutant (L,M) embryos. In all panels, when visible, the arches are numbered, arch cores are marked with arrowheads, and black dots mark the pharyngeal pouches. (A) Lateral view of a whole-mount embryo at 18 hours. (B) Higher magnification of boxed area in A. Scattered ventral mesenchymal cells in the first two arches express suc/et-1 (arrowheads). (C) Lateral view at 24 hours. Strong expression is seen in a ventral mesenchymal cluster of cells in each of the first two arches. Expression is also seen in the second and third pharyngeal pouches. (D) Lateral view at 30 hours. Expression is seen in a mesenchymal core in each of the first three arches and in pharyngeal pouches 2-4. (E) Ventral views at 30 hours and (F) horizontal section at 32 hours through arches 2 and 3. The mesenchymal clusters of suc/et-1-expressing cells are surrounded by non-expressing cells (asterisks). Expression in the ventral surface ectoderm is continuous with expression in the second pharyngeal pouch. (G) Lateral view at 36 hours. Strong expression persists in a central core in the first three arches, and in pharyngeal pouches 2-4. A dashed line outlines the second pharyngeal pouch instead of marking it with a dot here to show the double cuboidal epithelial nature of the pouches, and the localization of suc/et-1 expression to ventral, posterior pouch epithelia. (H) A montage of two focal planes of the same whole-mount embryo (ventral view) at 36 hours. The mesenchymal cores continue to express suc/et-1 and have elongated in the mediolateral direction. (I) 32 hours; transverse section of endothelial cell (arrow) lining the dorsal aorta. (J) Ventral/lateral view of pectoral fin at 48 hours,. Anterior cells (arrow) express suc/et-1. (K) Horizontal section through yolk/hindyolk boundary showing bilateral clusters of suc/et-1 expressing cells (arrows) at 24 hours. (L-M) Lateral (L) and ventral (M) views of suc/et-1 expression in PCR-genotyped suc/et-1 mutants at 30 hours. Both epithelial domains are present, as are strongly expressing mesenchymal cores. Compare with D-E. aa1, aortic arch 1; e, eye; nt, neural tube; o, otic vesicle; pa2, pharyngeal arch 2; se, surface ectoderm; y, yolk ball; ye, yolk extension. Scale bars, 50 μm, except A,J (100 μm).
Antibody Labeling Details
No data available
Phenotype Details
No data available
Acknowledgments:
ZFIN wishes to thank the journal Development (Cambridge, England) for permission to reproduce figures from this article. Please note that this material may be protected by copyright.