ZFIN ID: ZDB-FIG-120905-38
Your Input Welcome
Thank you for submitting comments. Your input has been emailed to ZFIN curators who may contact you if additional information is required.
Oops. Something went wrong. Please try again later.
EXPRESSION / LABELING:
Gene:
Antibody:
Fish:
Knockdown Reagent:
Anatomical Terms:
Stage Range:

14-19 somites

to

Prim-5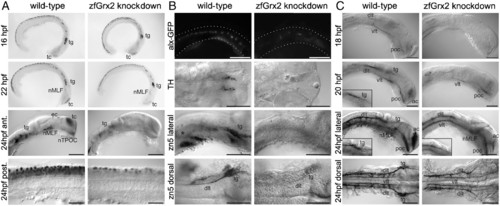 Fig. 2
Knockdown of zfGrx2 suppressed formation of a neuronal network. Morpholino-induced knockdown of zfGrx2 led to loss of early HuC/D positive neurons between 22 and 24 hpf (A). As demonstrated by different techniques, all tested neuronal subgroups were affected at 24 hpf: glutamatergic excitatory interneurons, dopaminergic neurons, and secondary motor neurons (B). Embryos lacking zfGrx2 were not able to develop an axonal scaffold (C). Ac, anterior commissure; dlt, dorsal longitudinal tract; nMLF, nucleus of the medial longitudinal fascicle; poc, posterior commissure; tg, trigeminal ganglion; vlt, ventral longitudinal tract. Scale bar, 50 µm.
Antibody Labeling Details
Phenotype Details
Fish

Conditions
Stage
Phenotype
WT + MO1-glrx2
standard conditions

14-19 somites

-

26+ somites

central nervous system has fewer parts of type white matter, abnormal

14-19 somites

-

26+ somites

central nervous system development disrupted, abnormal

14-19 somites

-

26+ somites

central nervous system projection neuron axonogenesis disrupted, abnormal

14-19 somites

-

26+ somites

neuron amount, normal

14-19 somites

-

26+ somites

neuron spatial pattern, normal

Prim-5

central nervous system has fewer parts of type white matter, abnormal

Prim-5

central nervous system development disrupted, abnormal

Prim-5

central nervous system projection neuron axonogenesis disrupted, abnormal

Prim-5

dopaminergic neuron decreased amount, abnormal

Prim-5

glutamatergic neuron decreased amount, abnormal

Prim-5

neuron decreased amount, abnormal

Prim-5

secondary motor neuron decreased amount, abnormal
nns1Tg + MO1-glrx2
standard conditions

Prim-5

neuron decreased amount, abnormal
Acknowledgments:
ZFIN wishes to thank the journal Proceedings of the National Academy of Sciences of the United States of America for permission to reproduce figures from this article. Please note that this material may be protected by copyright. Full text @ Proc. Natl. Acad. Sci. USA