ZFIN ID: ZDB-FIG-101206-2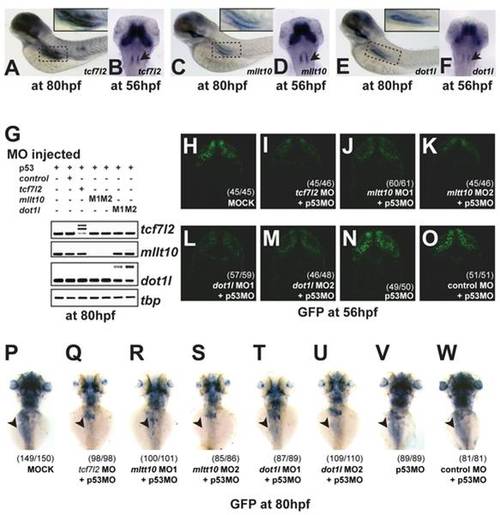 Fig. 7 tcf7l2, Mllt10/Af10, and dot1l are co-expressed in Wnt active tissues and required for TCF-driven transcription in vivo.
(A–F) In situ hybridization for tcf7l2 (A), mllt10/af10 (C), and dot1l (E) in whole embryos at 80 hpf. In situ hybridization for tcf7l2 (B), mllt10/af10 (D), and dot1l (F) in whole embryos at 56 hpf. Arrowhead indicates rhombomeres. (G) Gene-specific depletion of RNA levels at 80 hpf determined by RT-PCR analysis of tcf7l2, mllt10, and dot1l expression in whole embryos injected with the indicated MO sequences. Higher bands in the RTPCR panels for tcf7l2 and dot1l correspond to unspliced introns in the PCR products. Morpholino knockdown of mllt10/af10 and dot1l mimics tcf7l2 depletion effect on Wnt reporter activity in zebrafish brain (H–M). Representative confocal images of dorsal view of head of 56 hpf TOPdGFP embryos injected with different MOs. (H) dGFP expression in the hindbrain of embryos injected with buffer only, MO against tcf7l2 (I), two independent mllt10/af10 (J,K) and dot1l MOs (L,M), p53 MO (N), and control MO (O). Depletion of mllt10/af10 and dot1l abrogate GFP expression in intestine of TOPdGFP zebrafish, mimicking tcf7l2 depletion. Representative dorsal view of whole mount in situ hybridization for GFP in heterozygous TOPdGFP embryos at 80 hpf injected with (P) buffer alone, MOs against tcf7l2 (Q), mllt10/af10 (R,S), dot1l (T,U), p53 (V) and control MO (W). All MOs have been coinjected with a MO against p53.
Antibody Labeling Details
No data available
Acknowledgments:
ZFIN wishes to thank the journal PLoS Biology for permission to reproduce figures from this article. Please note that this material may be protected by copyright. Full text @ PLoS Biol.