ZFIN ID: ZDB-FIG-101123-57
Your Input Welcome
Thank you for submitting comments. Your input has been emailed to ZFIN curators who may contact you if additional information is required.
Oops. Something went wrong. Please try again later.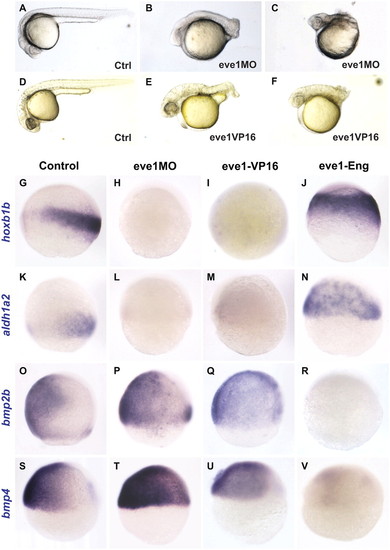 Fig. 2
Eve1 depletion suppresses trunk and tail development, and eve1 acts as a repressor. Zebrafish embryos were injected with eve1MO (B, C, H, L, P, T) or with eve1-VP16 mRNA (E, F, I, M, Q, U) as shown at bottom right of panels B, C, E, and F and at the top of the columns for the remainder. Embryos at 24 hpf (A–C) and at 28 hpf (D–F), show variable loss of trunk and tail tissue. (G–V) In situ staining of embryos at 70–80% epiboly (G–R) and 60% epiboly (S–V): lateral views, dorsal to the right (where discernible), with probes shown at the left of the rows. Hoxb1b and aldh1a2 are suppressed by eve1MO (H and L) and eve1-VP16 (I and M, compare with G and K), and expression of both genes is expanded in embryos injected with eve1-Eng (J and N). Conversely, bmp2b and bmp4 expression domains are expanded in embryos injected with eve1MO (P and T) and eve1-VP16 (Q and U, compare with O and S), whereas eve1-Eng suppresses expression of both BMPs (R and V).
Antibody Labeling Details
No data available
Phenotype Details
No data available
Acknowledgments:
ZFIN wishes to thank the journal Proceedings of the National Academy of Sciences of the United States of America for permission to reproduce figures from this article. Please note that this material may be protected by copyright. Full text @ Proc. Natl. Acad. Sci. USA