ZFIN ID: ZDB-FIG-101123-58
Your Input Welcome
Thank you for submitting comments. Your input has been emailed to ZFIN curators who may contact you if additional information is required.
Oops. Something went wrong. Please try again later.
EXPRESSION / LABELING:
| | |
| --- | --- |
| Genes: | |
| Fish: | |
| Knockdown Reagents: | |
| Anatomical Terms: | |
| Stage: | 75%-epiboly |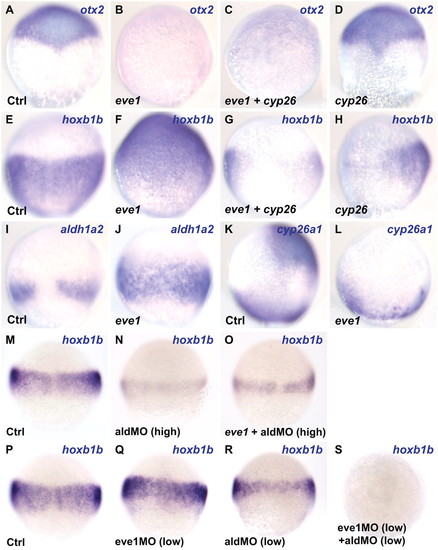 Fig. 3 Eve1 induces hoxb1b expression via an RA signal. (A–J and M–S) Dorsal and (K and L) lateral views (where discernible, dorsal to the right) of zebrafish embryos fixed for in situ staining at 80% epiboly (A–L) and 60% epiboly (M–S) Injections are indicated at the bottom left of each panel, and genes analyzed are given at the top right. (A–D) Suppression of otx2 by eve1 does not depend on RA because it resists overexpression of the RA-metabolizing enzyme Cyp26a1. (E–H) Eve1-mediated induction of hoxb1b does not occur when eve1 and cyp26a1 mRNAs are coinjected (G), and cyp26a1 injection alone suppresses hoxb1b expression (H; only one of two cells was injected in this embryo). (I and J) Eve1 induces aldh1a2 expression. (K and L) Anterior expression of cyp26a1 is suppressed by eve1 but remains unaffected at the margin. (M–O) Injection of high concentrations of aldMO and eve1 mRNA (Materials and Methods). Eve1 cannot rescue hoxb1b expression in aldMO-injected embryos (O). (P–S) Injection of low concentrations of eve1MO (2 ng/nL) and aldMO showed synergism in the suppression of hoxb1b.
Antibody Labeling Details
No data available
Phenotype Details
No data available
Acknowledgments:
ZFIN wishes to thank the journal Proceedings of the National Academy of Sciences of the United States of America for permission to reproduce figures from this article. Please note that this material may be protected by copyright. Full text @ Proc. Natl. Acad. Sci. USA