ZFIN ID: ZDB-FIG-100520-27
Your Input Welcome
Thank you for submitting comments. Your input has been emailed to ZFIN curators who may contact you if additional information is required.
Oops. Something went wrong. Please try again later.
EXPRESSION / LABELING:
| | |
| --- | --- |
| Genes: | |
| Fish: | |
| Anatomical Terms: | |
| Stage: | Day 5 |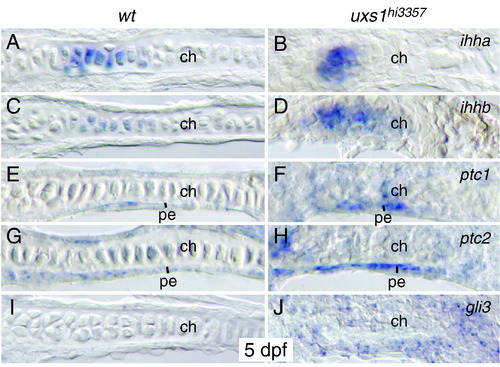 Fig. 9 Markers of Hedgehog signaling during uxs1 mutant endochondral ossification. (A–J) In situ hybridization on horizontal sections through 5 dpf ceratohyal for ihha (A, B), ihhb (C, D), ptc1 (E, F), ptc2 (G, H), and gli3 (I, J). Wild-type expression of ihha (A) and ihhb (B) appeared similar to that observed in uxs1hi3357 mutant chondrocytes (B, D). Compared to wild-type perichondrium (E, G, I), uxs1 mutant perichondrium demonstrated increased expression of ptc1 (F), ptc2 (H), and gli3 (J).
Antibody Labeling Details
No data available
Phenotype Details
No data available
Acknowledgments:
ZFIN wishes to thank the journal Developmental Biology for permission to reproduce figures from this article. Please note that this material may be protected by copyright.

Reprinted from Developmental Biology, 341(2), Eames, B.F., Singer, A., Smith, G.A., Wood, Z.A., Yan, Y.L., He, X., Polizzi, S.J., Catchen, J.M., Rodriguez-Mari, A., Linbo, T., Raible, D.W., and Postlethwait, J.H., UDP xylose synthase 1 is required for morphogenesis and histogenesis of the craniofacial skeleton, 400-415, Copyright (2010) with permission from Elsevier. Full text @ Dev. Biol.