ZFIN ID: ZDB-FIG-090804-45
EXPRESSION / LABELING:
| | |
| --- | --- |
| Genes: | |
| Fish: | |
| Knockdown Reagents: | |
| Anatomical Term: | |
| Stage: | 10-13 somites |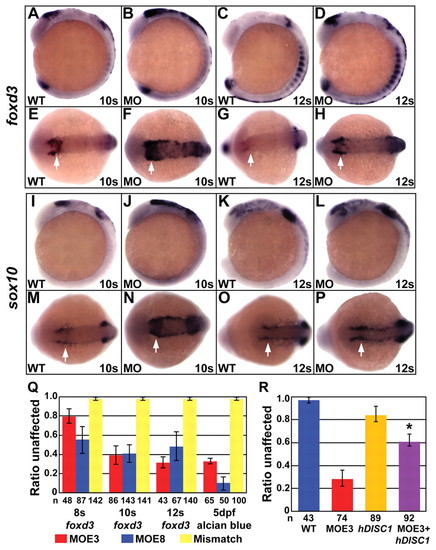 Fig. 3 Disc1 morphants had a medial expansion of foxd3 and sox10 expression. (A-H) At 10s and 12s, lateral (A-D) and dorsal (E-H) views show the medial expansion and increased level of foxd3 expression in Disc1 morphants (arrows). (I-P) sox10 expression showed similar results. (Q) foxd3 in situ hybridization and Alcian Blue staining of craniofacial cartilage was done on Disc1 morphants and mismatch control-injected embryos from within the same clutch. The ratio of embryos with normal foxd3 expression was significantly reduced in embryos injected with either MOE3 or MOE8. The ratio of larvae from the same clutches with normal Alcian Blue staining (class 1) was similarly reduced. Injection of a mismatch control produced no defect in foxd3 expression or cartilage development. (R) The medial expansion of foxd3 expression can be rescued in Disc1 morphants by co-injection of 100 pg of human DISC1 mRNA (*, P<0.01).
Antibody Labeling Details
No data available
Acknowledgments:
ZFIN wishes to thank the journal Development (Cambridge, England) for permission to reproduce figures from this article. Please note that this material may be protected by copyright. Full text @ Development