ZFIN ID: ZDB-FIG-090804-44
PHENOTYPE:
| | |
| --- | --- |
| Fish: | |
| Knockdown Reagents: | |
| Observed In: | |
| Stage: | Day 5 |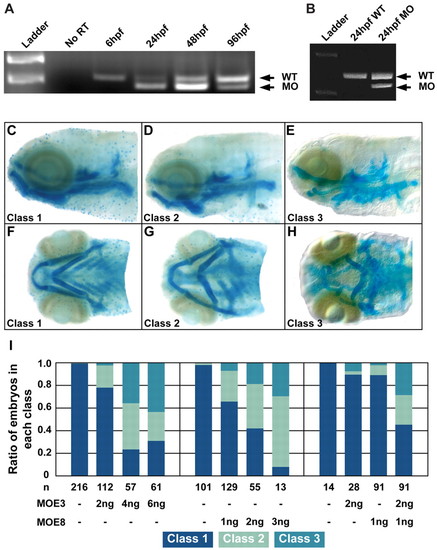 Fig. 2 Two splice-site targeted Disc1 morpholinos altered disc1 transcript size and craniofacial development. (A) RT-PCR analysis of MOE3-injected embryos demonstrated alternative splicing of disc1 pre-mRNA resulting in a smaller transcript. At 6 hpf, maternally expressed disc1 could not be modified by the splice site-targeted morpholino, which resulted in the wild-type transcript present. (B) MOE8 injection also effectively altered transcript size. (C-H) Morpholino-mediated Disc1 knockdown resulted in three classes of craniofacial cartilage defects. (C,F) Class 1 (normal); (D,G) class 2; (E,H) class 3. (C-E) Lateral views; (F-H) ventral views with anterior to the left. (I) The ratio of MOE3 and MOE8 morphant embryos in each class was dose dependent. (I, right) Although half-effective doses of MOE3 or MOE8 did not affect craniofacial development, they acted synergistically to produce a high ratio of larvae with abnormal craniofacial cartilage.
Gene Expression Details
No data available
Antibody Labeling Details
No data available
Acknowledgments:
ZFIN wishes to thank the journal Development (Cambridge, England) for permission to reproduce figures from this article. Please note that this material may be protected by copyright. Full text @ Development