ZFIN ID: ZDB-FIG-070116-1
Liao et al., 2000
- Hereditary spherocytosis in zebrafish riesling illustrates evolution of erythroid ß-spectrin structure, and function in red cell morphogenesis and membrane stability. Development (Cambridge, England) 127(23):5123-5132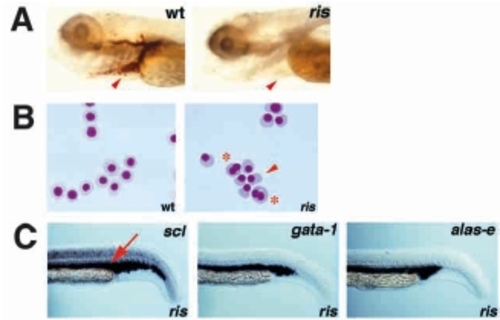 Fig. 1 Embryonic blood defects in ris. In this and all subsequent figures embryos are shown as lateral views, with anterior left and ventral down, at 10X magnification, unless specified otherwise. (A) Whole-mount o-dianisidine staining of wildtype and ris embryos at 4 dpf, showing absence of blood cells in ris (arrowhead). (B) Wright- Giemsa staining of embryonic blood cells collected from wild-type and ris embryos at 2.5 dpf. Wild-type primitive erythrocytes are spherical and nucleated, whereas ris primitive erythrocytes are often abnormally shaped (arrowhead) and binucleated (asterisk). 20X magnification. (C) In situ analysis of ris embryos at 23 hours post-fertilization (hpf), with antisense riboprobes of scl, gata-1 and alas-e. At 23 hpf, blood cells are restricted to the intermediate cells mass (ICM), dorsal to the yolk tube extension (arrow).
Antibody Labeling Details
No data available
Acknowledgments:
ZFIN wishes to thank the journal Development (Cambridge, England) for permission to reproduce figures from this article. Please note that this material may be protected by copyright.