ZFIN ID: ZDB-FIG-070116-2
Liao et al., 2000
- Hereditary spherocytosis in zebrafish riesling illustrates evolution of erythroid ß-spectrin structure, and function in red cell morphogenesis and membrane stability. Development (Cambridge, England) 127(23):5123-5132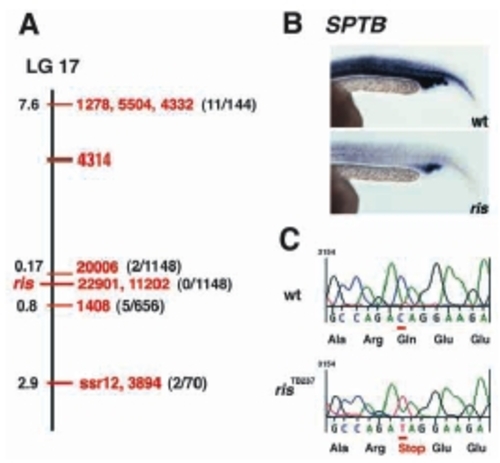 Fig. 3 sptb is the defective gene in ris. (A) Genetic map of LG 17, showing a sample number of SSLP markers tested in the meiotic mapping (in red), and their relative distances from ris locus (in black). The number of recombinants/the total number of animals tested are indicated in parenthesis. (B) sptb whole-mount RNA in situ on wild-type and ris embryos at 23 hpf. Identical staining of ICM, myotube and somites is observed with riboprobes generated from BScd, BF1/238 (shown here), or BSPH clones. (C) Sequence of a five codon interval encompassing the C to T transversion mutation at position +3130 that was found in ris.
Antibody Labeling Details
No data available
Phenotype Details
No data available
Acknowledgments:
ZFIN wishes to thank the journal Development (Cambridge, England) for permission to reproduce figures from this article. Please note that this material may be protected by copyright.