ZFIN ID: ZDB-FIG-070117-15
Liao et al., 2000
- Hereditary spherocytosis in zebrafish riesling illustrates evolution of erythroid ß-spectrin structure, and function in red cell morphogenesis and membrane stability. Development (Cambridge, England) 127(23):5123-5132
PHENOTYPE:
| | |
| --- | --- |
| Fish: | |
| Observed In: | |
| Stage: | Adult |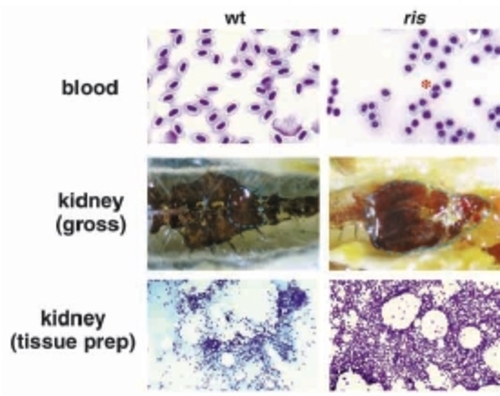 Fig. 2 Adult ris blood and marrow. Peripheral blood and kidney collected from wild-type and ris adults. Blood smear and kidney tissue preparation were Wright-Giemsa stained, and whole kidneys are shown in situ, situated in the retroperitoneal cavity of the adult animal (organ margin demarcated with broken lines). Mutant erythrocytes are spherical or tear-drop shaped, with round nuclei. More bi-nucleated cells are seen in the mutant (asterisk). In contrast, the wild-type red cells and nuclei are elliptical. Mutant kidney tissue is dramatically enlarged compared with wild type, with increased cellularity. Blood, gross kidney and tissue kidney are shown at 20x, 4x and 4x, respectively.
Gene Expression Details
No data available
Antibody Labeling Details
No data available
Acknowledgments:
ZFIN wishes to thank the journal Development (Cambridge, England) for permission to reproduce figures from this article. Please note that this material may be protected by copyright.