ZFIN ID: ZDB-FIG-060322-5
EXPRESSION / LABELING:
| | |
| --- | --- |
| Genes: | |
| Fish: | |
| Knockdown Reagents: | |
| Anatomical Term: | |
| Stage: | Shield |
PHENOTYPE:
| | |
| --- | --- |
| Fish: | |
| Knockdown Reagent: | |
| Observed In: | |
| Stage: | Long-pec |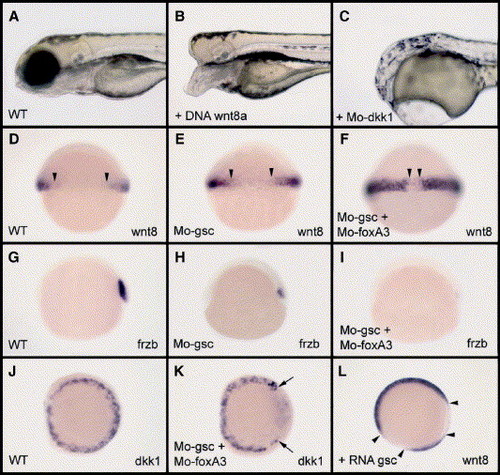 Fig. 5 Inhibition of gsc and foxA3 results in an upregulation of Wnt signaling at the dorsal margin. Compared to wild-type (A), embryos injected with wnt8a DNA (B) or inactivation of dkk1 by morpholino knock-down (C) results in deletion of anterior head. (D–F) Expression of wnt8a at shield stage in WT (D), gsc (E) and gsc/foxa3 (F) knock-down embryos. Arrowheads indicate the dorsal borders of wnt8a expression territory. (G–I) Expression of frzb at shield stage in WT (G), gsc (H) and gsc/foxa3 (I) knock-down embryos. (J, K) Expression of dkk1 at shield stage in WT (J) and gsc/foxa3 knock-down (K) embryos. Arrows indicate the dorsal most extent domain of dkk1 expression at the margin. (L) Expression of wnt8a at shield stage in an embryo injected with gsc RNA at the 32 cell stage in one ventro-lateral blastomere. Arrowheads indicate the limit of wnt8a expression at the gastrula margin. (A, B) 96 hpf, (C) 48 hpf, (D–L) shield stage. (A–C, G–I) Lateral view, (D–F) dorsal view, (J–L) animal pole view dorsal to the right.
Antibody Labeling Details
No data available
Acknowledgments:
This image is the copyrighted work of the attributed author or publisher, and ZFIN has permission only to display this image to its users. Additional permissions should be obtained from the applicable author or publisher of the image.

Reprinted from Developmental Biology, 290(1), Seiliez, I., Thisse, B., and Thisse, C., FoxA3 and goosecoid promote anterior neural fate through inhibition of Wnt8a activity before the onset of gastrulation, 152-163, Copyright (2006) with permission from Elsevier. Full text @ Dev. Biol.