ZFIN ID: ZDB-FIG-151214-68
PHENOTYPE:
| | |
| --- | --- |
| Fish: | |
| Condition: | |
| Observed In: | |
| Stage: | Long-pec |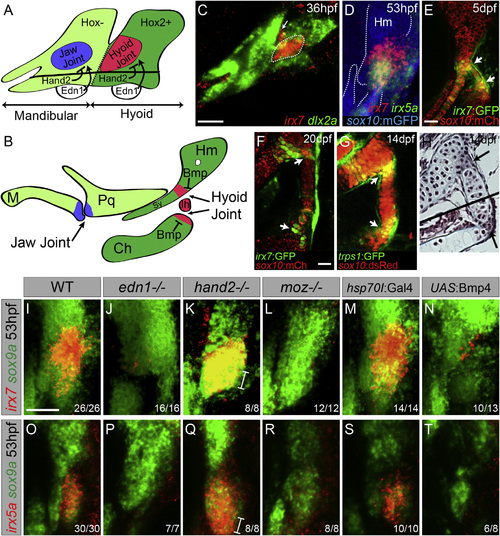 Fig. 1
Regulation of irx7 and irx5a Expression and Character of the Hyoid Joint
(A and B) Schematics of mandibular and hyoid arches at 36 hpf and cartilage derivatives at 5 dpf show early regulation of joints by Hand2 and Edn1 and late regulation by Bmp signaling.
(C) In situ hybridization at 36 hpf shows expression of irx7 (red) relative to dlx2a+ neural-crest-derived cells (green) in a domain of intermediate hyoid arch cells (dashed line) and in a portion of the first pharyngeal pouch (arrow).
(D) Relative to sox10:GFPCAAX+ cartilages (anti-GFP, blue), overlapping expression of irx7 (red) and irx5a (green) is seen at the developing hyoid joint.
(E and F) An irx7:GFP gene-trap line (green) shows increasingly restricted expression at the bipartite hyoid joint (arrows) relative to sox10:mCherryCAAX+ cartilages (red).
(G) trps1:GFP labels a similar population of cells as irx7 at each side of the hyoid joint (arrows) relative to sox10:dsRed+ cartilages.
(H) Trichrome staining shows that cells at the hyoid joints (arrows) are smaller and lack the large lacunae of neighboring hypertrophic chondrocytes. Black line denotes merging of two adjacent sections.
(I–T) Expression of irx7 and irx5a (red) relative to sox9a+ hyoid chondrocytes (green) in edn1, hand2, and moz mutants, as well as hsp70I:Gal4 control and hsp70I:Gal4; UAS:Bmp4 embryos subjected to 40–44 hpf heat shock. Brackets show ventral expansion in hand2 mutants. M, Meckel's; Pq, palatoquadrate; Sy, symplectic; Hm, hyomandibula; Ch, ceratohyal; Ih, interhyal. Numbers indicate proportion of animals showing the displayed phenotype.
Scale bars represent 30 µM. See also Figure S1.
Antibody Labeling Details
No data available
Acknowledgments:
ZFIN wishes to thank the journal Developmental Cell for permission to reproduce figures from this article. Please note that this material may be protected by copyright.

Reprinted from Developmental Cell, 35, Askary, A., Mork, L., Paul, S., He, X., Izuhara, A.K., Gopalakrishnan, S., Ichida, J.K., McMahon, A.P., Dabizljevic, S., Dale, R., Mariani, F.V., Crump, J.G., Iroquois Proteins Promote Skeletal Joint Formation by Maintaining Chondrocytes in an Immature State, 358-65, Copyright (2015) with permission from Elsevier. Full text @ Dev. Cell