ZFIN ID: ZDB-FIG-130801-34
EXPRESSION / LABELING:
Genes:
Fish:
Condition:
Anatomical Term:
Stage Range:

Prim-5

to

Prim-25
PHENOTYPE:
| | |
| --- | --- |
| Fish: | |
| Condition: | |
| Observed In: | |
| Stage: | Prim-25 |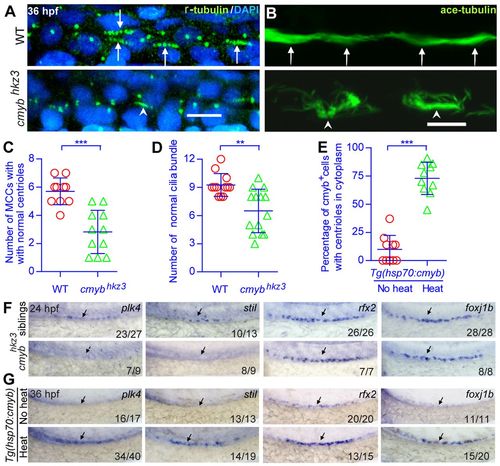 Fig. 7 cmyb regulates the expression of key regulatory genes involved in centriole duplication and ciliogenesis. (A-D) Morphological and statistical analysis of the centriole (anti-γ-tubulin staining, green in A) and cilia bundle (anti-acetylated tubulin staining, green in B) in the middle kidney duct of wild-type and cmyb mutant embryos. Membrane RFP was injected and stained to help identify the cell boundaries (data not shown). Arrows indicate normal centrioles and ciliar bundles; arrowheads indicate defective centrioles and cilia bundles. (E) The percentage of cmyb:EGFP+ cells with cilia bundles was calculated for each Tg(hsp70:cmyb) embryo and analyzed statistically at 36 hpf. (C-E) Each circle/triangle represents an embryo. Mean ± s.d. **P<0.01, ***P<0.0001 (unpaired t-test). (F,G) WISH analysis of plk4, stil, rfx2 and foxj1b expression in normal embryos, cmyb mutants and embryos overexpressing cmyb. Arrows indicate the regions where MCCs are located. The number of embryos with normal (top pictures in F,G), low (bottom pictures in F) or high expression levels (bottom pictures in G) of a tested gene among all analyzed embryos is indicated (bottom right). WT, wild type. Scale bars: 10 μm.
Antibody Labeling Details
No data available
Acknowledgments:
This image is the copyrighted work of the attributed author or publisher, and ZFIN has permission only to display this image to its users. Additional permissions should be obtained from the applicable author or publisher of the image. Full text @ Development